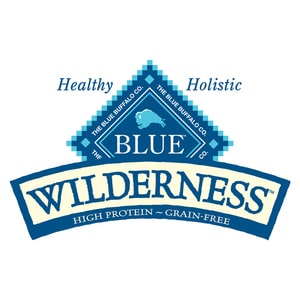 We've always been a fan of healthy dog diets, and Blue Wilderness makes some of the very best available. One of THE most popular Blue Buffalo brands, we thought this line of kibbles deserved its very own set of reviews. Why? Because there's just so much to love about meat-rich, gluten-free dog food.Of course, we'll be looking at some puppy options, grain-free formulas, hypoallergenic recipes, and a nice Blue Wilderness Senior Food for those older dogs. With exciting flavors like 'Beef and Chicken Grill' and 'Adult Alligator and Catfish' to choose from, we're almost tempted to try them out ourselves…but we'd probably better not!
Quick Review: Top-5 Dog Foods From Blue Wilderness
Blue Buffalo Wilderness HP GF Toy

Helps reduce choking risk for small dogs
Chicken and chicken flour provide 36% protein
Glucosamine provides protection against joint diseases

Blue Buffalo Wilderness Rocky Mountain Recipe

Omega acids provide skin protection for a growing puppy
Provides vitamin C from cranberries and blueberries
No by-product meals

Blue Buffalo Wilderness High Protein Grain Free

Real boneless salmon's our very first ingredient
There is also food menhaden, a source of omega acids
Provides 15% fat

Blue Buffalo Wilderness Natural Puppy Wet

Flaxseed is an excellent source of omega acids
This loaf-style canned dinner is naturally preserved
Provides your pup with DHA-rich fish oil

Blue Buffalo Wilderness Natural Senior Wet

Peas and chicken - ideal for older dogs 8% protein
Real turkey's the top ingredient
Includes iron supplements to reduce the risks of anemia
Who Is Blue Wilderness?
You can rest assured that Blue Wilderness products are all made by Blue Buffalo. At the time of writing this review, the Blue Wilderness line includes 82 products. All of which take their inspiration from our pet's very close relatives — wolves! All products are therefore meat-based and rich in protein. But that's not all; Blue Wilderness has varied and interesting flavors of treats, cans, and kibble for dogs of all shapes and sizes.
If you haven't already looked at our special page about Blue Buffalo, the company behind Blue Wilderness, we recommend you take a little peek. But otherwise, here are some key background facts:
Blue Buffalo was started with the idea of creating healthy dog food. How's that for a good start!;
Blue Buffalo has been around for more than a decade and was inspired by the founding family's pet dog, who died early. The family decided to look into making better food for dogs, and started up Blue Buffalo;
All Blue Buffalo food is manufactured in the USA; and
The company's products are developed alongside in-house vets and professional nutritionists.
What's Special About Blue Wilderness?
So what about the Wilderness brand? What does it offer that's different from your average supermarket pet food, and how does it compare with other Blue Buffalo products?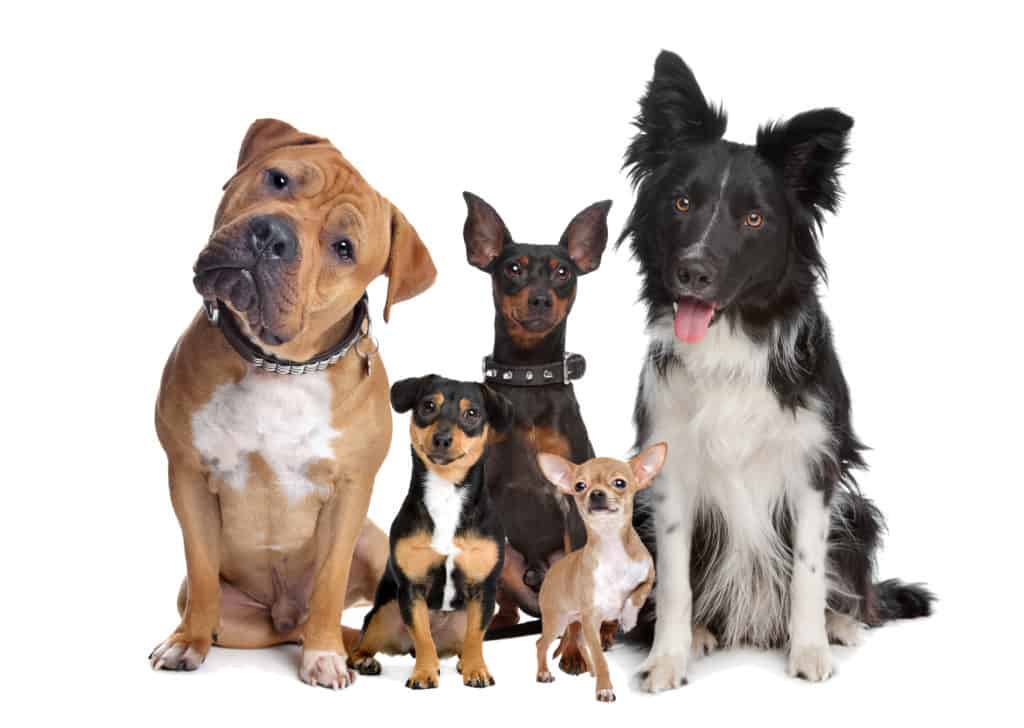 There are a few distinguishing features of Blue Wilderness food that, in our opinion, make it a particularly healthy choice for dogs. These are:
All Blue Wilderness food is made without grains;
Compared to generic supermarket brands, it uses high-quality ingredients; and
Blue Wilderness tends to offer higher levels of protein than other Blue Buffalo recipes.
Wet and dry foods aren't the only categories you'll find in Blue Wilderness, either, the line has an extensive range of stew, loaf, and tray-style dinners that help you mix things up for your doggy best friend.
Blue Wilderness Dog Food Recalls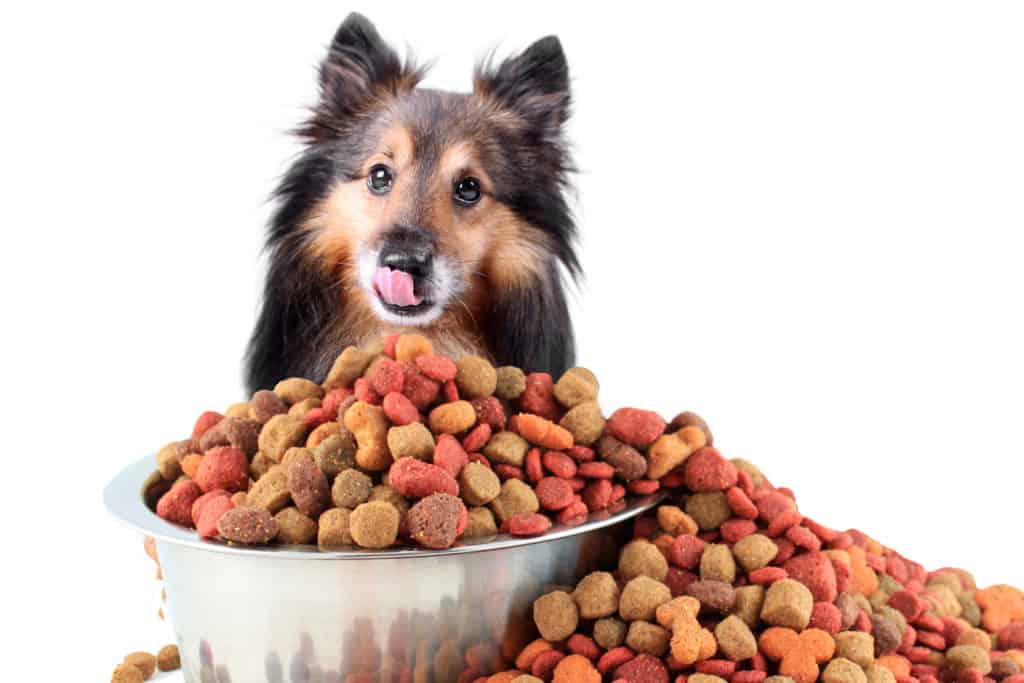 The most recent Blue Wilderness dog food recall (to date) occurred in 2017 when Blue Buffalo voluntarily recalled their Blue Wilderness Rocky Mountain Recipe Red Dinner. The concern related to the potential effects of specific hormones in one batch of cans. Some 'Trail Trays' from the Wilderness line were also recalled in the same year as they hadn't been sealed properly.
Two years earlier, some Wilderness bone chews were taken off the market because of suspected possible contamination with salmonella. This only concerned one particular lot size.
Why the Blue Wilderness Puppy Food Reviews and Blue Wilderness Dog Food Reviews?
Apart from everything we've just listed, Blue Wilderness offers a guarantee of:
No dubious add-ins (by-products or fillers);
Zero synthetic preservatives;
All-natural colors; and
A reliable, trusted reputation.
Let's have a look!
Our Blue Wilderness Dog Food Reviews
The Blue Wilderness Grain Free Dog Food Reviews
As we've mentioned, all Blue Wilderness dog foods are made to be 100% grain- and gluten-free. With such ample choice, therefore, we've opted to review the most special-sounding kibbles!
Blue Buffalo Wilderness Bayou Blend High Protein Grain Free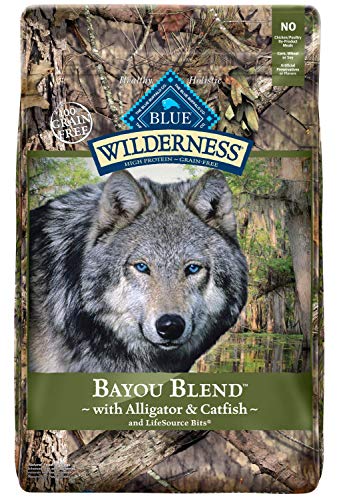 Pros
Offers a generous 30% protein, part of the reason it's a suitable 'All Life Stages' food;
Contains DHA, another reason why it's made for growing pups as well as adults;
Glucosamine is included, a healthy inclusion for breeds that are susceptible to joint complications;
Includes probiotics for hassle-free digestion; and
Bayou catfish for a novel dining experience. Now, how's that for variety!
Cons
While it's certainly full of novel proteins, this recipe still contains chicken.
Our Verdict: 5/5
As well as catfish and alligator, this includes shrimp — it's like a pretty novel gumbo! Omega acids will aid in keeping your fluffy friend's coat nice and healthy, while carrots and sweet potato provide fiber and beta-carotene. Yum!
Blue Buffalo Wilderness High Protein Grain Free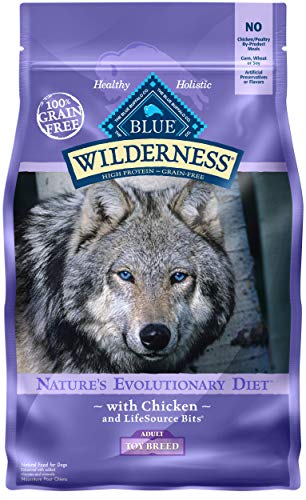 Pros
"Toy-bite" pieces offer an easy and stress-free eating experience;
They also help reduce the risk of choking for our smaller dogs;
Chicken and glucosamine-containing chicken meal contribute to a whopping 36% protein;
Glucosamine offers protection against common joint ailments; and
At 424 k/Cal per cup, it's perfect for little dogs with quicker digestive systems.
Cons
Not really, this blend even includes blueberries and carrots for vitamins!
Our Verdict: 5/5
Naturally flavored, and with only vegetable juice for color, here's a nutritious feast for our (very) little grown dogs. Plus, it includes Omega acids — pretty neat if you've got a long-haired toy dog.
The Blue Wilderness Puppy Food Reviews
Blue Buffalo Wilderness HP G Natural Large Breed
Pros
Certified nutrition for larger-breed pups, so our German Shepherds, Labs, Golden Retrievers, and Pitbulls won't be getting too much calcium!
Contains fiber and healthy carbs from nutritious sources, including sweet potato and kelp;
ARA and DHA are both found within fish oil, which this blend includes;
Also has the Omega acids that your puppy needs for a silky, shiny coat; and
Provides him with 35% protein!
Cons
Unfortunately, pups who are allergic to potato won't be able to eat this particular recipe.
Our Verdict: 5/5
From this blend, our bigger pups will be getting L-Carnitine as well as brain-healthy DHA. It's a nice addition given that some larger breeds tend to be quite muscly. Calcium levels are controlled at 1.2% to help avoid giving our pups an excess of this mineral.
Blue Buffalo Wilderness Rocky Mountain
Pros
Omega acids provide skin protection for your growing pal;
Offers DHA for vision, to help puppy develop keen eyesight;
Provides natural Vitamin C from cranberries and blueberries;
No by-product meals (as with all Blue Wilderness food!); and
It's made with manageable bits — small kibble, in other words — to help puppy chew properly!
Cons
Our Verdict: 5/5
Potato tends not to be an allergen for most dogs, but we've flagged it up here anyway, just in case! Otherwise, this is a great natural puppy formula with zero synthetic preservatives or flavors. It even includes venison for a little bit of a tasty change.
The Hypoallergenic Blue Wilderness Dog Food Reviews
Blue Wilderness doesn't technically offer hypoallergenic food as yet, you'll need to look for a Blue Basics formula (or our giant Hypoallergenic Dog Food Review!) to find sensitive skin and sensitive stomach dog foods. What they do offer, however, is some pretty awesome Wilderness Blue Buffalo High Protein Dry Adult Dog Food.
Blue Buffalo Wilderness High Protein Grain Free
Pros
Real boneless salmon's our very first ingredient;
Also features menhaden meal, a neat source of Omega acids;
Glucosamine comes from chicken meal (rather than by-products);
Provides 15% fat; and
Includes non-meat proteins like egg and peas.
Cons
Our Verdict: 5/5
After careful review, all our Blue Wilderness Dog Food reviews have received our five-star rating so far. And this high-protein, delicious-sounding recipe is no exception. Perfect for active and moderately active grown-ups…dogs, that is!
The Blue Wilderness Canned Dog Food Reviews
Blue Buffalo Wilderness HP GF Natural Puppy Wet Dog Food
Pros
Delicious turkey's our starring ingredient — a lean protein that's commonly thought of as a superfood thanks to its B12, B6, and zinc content;
Flaxseed has been included, a lovely source of Omega acids;
This loaf-style canned dinner is naturally preserved;
Provides your pup with DHA-rich fish oil; and
The tantalizing flavor comes from delicious chicken broth.
Cons
If we're really going to nit-pick at this otherwise delicious, wholesome blend, there are no leafy vegetables in here. But otherwise, it's pretty awesome!
Our Verdict: 5/5
Pea protein and turkey make this sound like Thanksgiving in a can! But on the practical side of things, it offers a healthy mix of vitamins, minerals. And it's protein-rich, all naturally preserved, and contains no questionable by-products. That ticks all our boxes — five stars.
Blue Buffalo Wilderness HP GF Natural Adult Wet Dog Food
Pros
It's deliciously meaty without any by-products;
Totally skips all the grains, including the all-too-common wheat and corn;
Suitable for all stages of the doggy life cycle;
All-natural preserving agents are used, such as guar gum; and
Supplemented with all those essential vitamins, including B vitamins for Bounce!
Cons
Our Verdict: 5/5
Blue Wilderness does actually make it's separate 'toppers' for jazzing up your dog's kibble, but we reckon this does the job excellently. Just stir a little and add it to your pet's kibble and he'll be able to enjoy a nice, savory, and complete mix of textures.
Blue Wilderness Senior Dog Food Review
Blue Buffalo Wilderness HP GF Natural Senior Wet Dog Food
Pros
Turkey, peas, and chicken all come together to provide your senior dog with 8% protein;
Older dogs with some missing teeth or weaker jaws will have no difficulty eating this;
Real turkey's the top ingredient;
Includes iron supplements to reduce the risks of anemia; and
At 437 k/Cal per can, it gives your older dog enough energy to stay active and healthy.
Cons
Our Verdict: 5/5
Senior dogs may not be as active as their younger counterparts, but they still require protein in their diets — it's essential for their muscle maintenance. This is relatively low in fat, too, which is good if your dog is no getting as much exercise as he used to.
FAQ
What do veterinary professionals think of Blue Buffalo Wilderness?
Blue Buffalo Wilderness is considered one of the top of the line brands on the market. With having quality protein options and natural ingredients, it is one of the best diets available in stores. Since their diets are so high in protein, Blue Buffalo Wilderness is a wonderful option for growing puppies and active adults. This is also a great diet option for underweight canines that need to build lean muscle mass. If your furry friend falls into any of these categories, your vet may even recommend this diet!
Why is there rosemary oil in my dog's food?
We're probably used to seeing rosemary in sprig form, on our roast chicken or turkeys. In dog food, rosemary actually plays a role as a natural preserving agent. The herb is sometimes used in extract form rather than oil form, and often replaces synthetic agents such as BHA. It contains free radical-fighting antioxidants, and AAFCO-approved dog food will usually have only a small amount of it. Some dogs have been known to react badly to rosemary, so always consult your vet if you have concerns about your pet's health.
Why am I seeing more and more 'exotic' ingredients in dog food?
As you'll see in our Blue Wilderness dog food reviews, ingredients like alligator and bison are starting to become slightly more common. Undeniably, there is competition between manufacturers, with unique offerings being one way to stand out. However, there are some dietary reasons behind why owners might choose to buy dog food with novel or 'exciting' ingredients.
One main reason is that mixing up protein ingredients can help to reduce your dog's risk of overexposure to any one meat or animal. Our pets tend not to get as much variety as we do, and over the long-term, some can develop intolerances to very common meats — chicken and beef are two examples. So-called 'exotic' foods are simply one way to reduce the risk of overexposure to certain foods. However, we always advise that you go straight to get a vet's advice if you suspect allergies may be a concern.
Helpful Links
Last update on 2022-09-25 / Affiliate links / Images from Amazon Product Advertising API