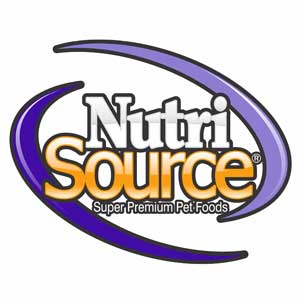 Hey there again! If you're already feeding your puppy with NutriSource, you'll probably know at least a little about this premium, health-focused brand. If not, then we're feeling good about being able to introduce you to what we consider one of the higher quality brands of puppy food out there. Here's all you'll need to know about NutriSource in one convenient place!
Quick Review: Top-4 Dog Foods From NutriSource
NutriSource Grain Free

28% protein
Salmon meal contains some fish oil
Fat content's at 18%

NutriSource Small/Medium Breed

32% protein from fish and chicken
Rice and probiotics
Naturally-sourced Omega 6 and 3

NutriSource Grain Free Canned Heartland

AAFCO-approved for all your puppies
Gluten- and grain-free
Legumes, superfood cranberries

NutriSource Grain-Free Lamb Meal & Peas Formula

Lamb and salmon - 28% protein
Fat's at 18%
Vitamin E and partner zinc
Who is NutriSource dog food?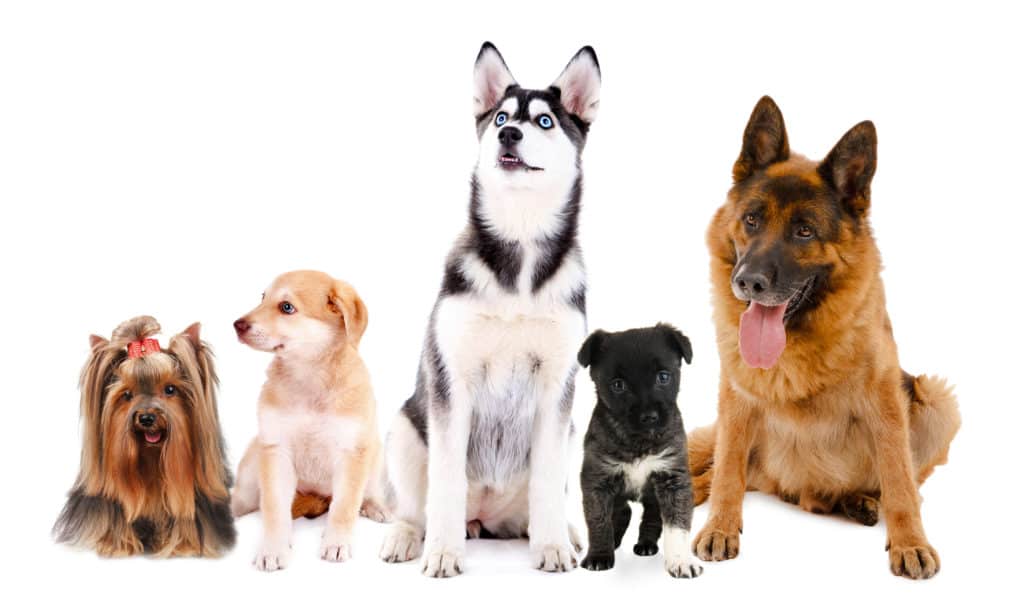 NutriSource is an all-American brand based in Minnesota, and they're family-run. All their dog and puppy kibbles are made in the States, in a family-owned factory in Perham. They've actually never had any of their products recalled, so they've got an unparalleled record for safety that we think is great. It's possible that they're a little less well-known than some of the larger and well-reputed dog food brands out there, but this is because they make a conscious effort to stay in control of the ingredients in all their recipes by remaining small.
For the same reason, NutriSource is often considered a premium, top-of-the-range puppy and dog food brand. This means that while their products are often priced a little higher than some of their competitors, you're also able to relax in the knowledge that all ingredients are high-caliber, and that significant thought has gone into each and every formula.
What's awesome about NutriSource?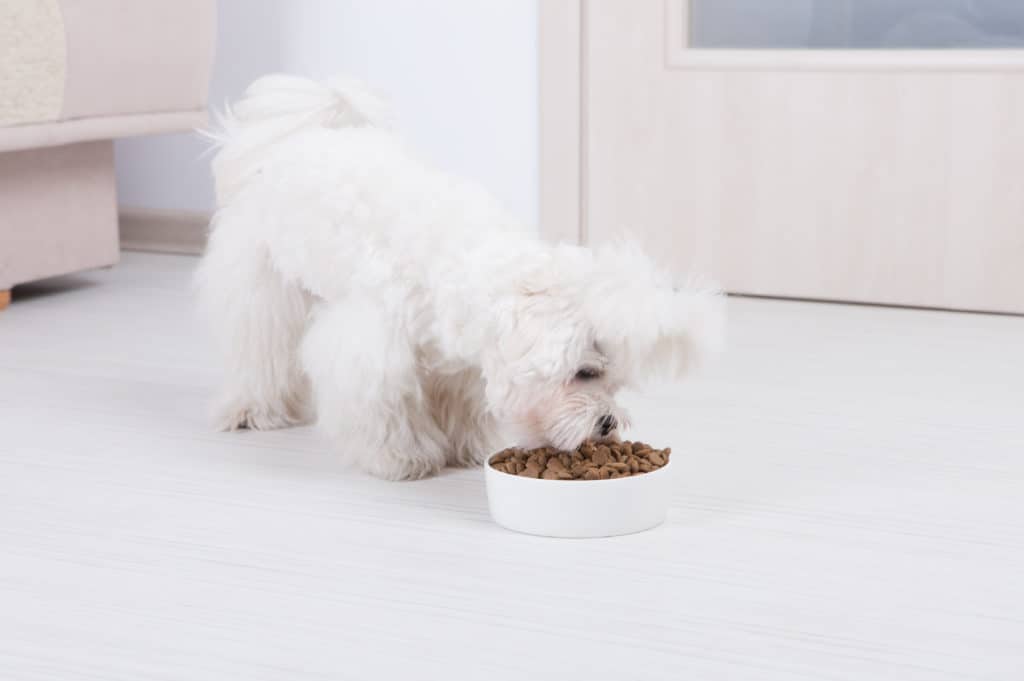 NutriSource uses a wide variety of protein sources in most of their foods, including chickpeas, lentils, peas, egg, and those lesser used (but equally awesome) meats such as bison and quail. So, they're a brand with lots of variety! While they don't make breed-specific puppy foods at this point in time, they have a vast array of formulas that include all life stages, target seniors, and puppies, and that also address the nutritional requirements of larger, medium-sized, and smaller dogs.
Have you seen the Good4Life label on all their puppy food and dog food bags? This is the name of NutriSource's exclusive and proprietary ingredient blend for puppy and dog foods. It's based on Proteinated Micronutrients. Still confused? This means that NutriSource put things such as probiotics and prebiotics into their special formulas in an attempt to maximize the proportion of nutrients your canine friend can actually absorb.
Why the NutriSource food reviews and NutriSource puppy food reviews?
Feeding your puppy or dog with a higher quality brand such as NutriSource typically means you're doing away with the need to purchase excessively large quantities of kibble or chow. With more nutrients and less (or zero!) cheap fillers in each packet, your fluffy friend won't need to eat excess quantities of food just to get his daily required ingredients. We think that our NutriSource food reviews and NutriSource puppy food reviews are pretty much justified for this reason alone, but don't forget that they:
Are one of the healthiest puppy food and dog food options out there today;
Avoid corn, avoid wheat, and skip the soy in every single one of their foods;
Make a diverse selection of dog and puppy foods that are naturally preserved;
Source ingredients only from ethical and quality suppliers;
Have been around 1964, so they know their stuff!
The NutriSource food reviews
The Grain Free NutriSource Food Reviews
NutriSource Select Grain Free Seafood
Pros
Tasty and real salmon's the key source of the 25% protein, alongside fish meal;
All-natural flavorings in this one!
Contains those vital antioxidants, vitamins, and minerals for fighting off diseases, avoiding deficiencies, and promoting well-being overall;
Fat's at the 15% level, which is absolutely great for both puppy growth and those grown dogs who are getting good amounts of exercise- plus it's from real and natural chicken;
Both chondroitin for super joint health, and glucosamine.
Cons
Nope! This awesome formula doesn't even contain any kind of egg!
Our Verdict: 5/5
This both a delicious-sounding puppy kibble and one that contains protein from at least two different sources- peas and salmon. This can be pretty great for your puppy if you have a sneaking suspicion that he may be allergic to something; if this is the case, however, please check with your vet.
NutriSource Grain Free
Pros
28% protein, both from peas and from chicken;
Salmon meal contains some fish oil as a natural source of healthy DHA;
Suitable for those gluten-free dogs as it has absolutely zero grains whatsoever;
Fat content's at 18%, so this NutriSource formula is well-suited for active dogs;
Chondroitin, alongside glucosamine, Vitamin E, and a whole wide range of essential nutrients, including manganese, zinc, copper, and iron.
Cons
Because NutriSource is most definitely a premium brand, it's possible that you might find that this kibble is priced a little higher than some other brands.
Our Verdict: 5/5
There are no by-product fillers or suspicious ingredients in this NutriSource kibble for adult dogs. Fat is preserved in a natural way, and as per usual we're very happy to see both peas and alfalfa in the ingredients list.
The NutriSource Puppy Food Reviews
Nutri Source Small/Medium Breed Dry
Pros
32% protein, and it's from both fish and chicken;
Rice and probiotics for smoother puppy digestion, so your puppy will also get energy from carbs;
A-OK for all those smaller pups anywhere between 1 pound (which is ADORABLE!) and 50 pounds;
Flaxseeds give your small, or your medium (or both, if you're lucky) puppy an antioxidant boost;
DHA, in conjunction with other well-balanced amounts of naturally-sourced Omega 6 and 3.
Cons
Our Verdict: 5/5
So it's not a special grain-free option, but we're having a difficult time thinking of anything else at all that isn't awesome about this healthy, mineral- and vitamin-rich puppy food. Five stars out of five!
NutriSource Large Breed Puppy
Pros
Copper, manganese, potassium, zinc, and iron, all present in this formula for larger pups with longer growth stages;
26% protein, alongside 14% fat- both within our recommended ranges for large puppy breeds like Rottweilers, Huskies, Labradors, German Shepherds;
4% calcium for joint care- which is totally important for larger and longer-limbed puppies;
Lineolic acid is included, an essential acid for fur and dermal health;
Kelp and peas provide the key minerals here, as well as A, B1&2, D, E, and C vitamins. Impressive, huh?
Cons
As larger pups can require more daily calories and thus more kibble, you might notice the premium pricing a little more than a smaller puppy breed owner might.
Our Verdict: 5/5
NutriSource score very, very highly in our book. This NutriSource large breed puppy dinner's no exception, as you can see from the excellent nutrient profile, high-quality ingredients and low GI formula. Another five-star option.
The Wet NutriSource Food Review
Nutrisource Grain-Free Canned Chicken
Pros
Zinc, as well as supplements of Vitamin E, are great for healthy skin and glossy fur;
Real chicken in the first spot, ingredient-wise!
Chickpeas are an additional and alternative protein source, and variety's always good;
Both 10% protein and fat at 9% are excellent figures for wet puppy foods;
Cranberries, alongside superfood kelp act as all-natural vitamin sources for well-being;
Salmon oil will give your puppy or grown-up friend a natural and healthy dose of DHA.
Cons
This is both egg- and grain-free, so we're having a tough time deciding what not to like about this puppy chow!
Our Verdict: 5/5
NutriSource put a lot of effort into keeping their dog- and puppy-owning customers about the benefits that their pooches can enjoy from a rotational diet. This wet food's a prime example of how giving your fluffy friend a range of different ingredients doesn't always mean that you have to switch up brands.
NutriSource Grain Free Canned Heartland
Pros
AAFCO-approved for all your puppies or dogs, all you'll need to think about is whether you've got an active or less active best friend;
Gluten- and grain-free, with a low GI recipe that will help reduce the risk of hypoglycemia in smaller pooches;
There are at least 4 proteins in this food, which has a total of at least 9.5%;
Legumes, superfood cranberries, and kelp for vitamins and antioxidants.
Cons
In our eyes, none really. For a pretty darn economical price, you can get 12 cans at once.
Our Verdict: 5/5
How's bison not an incredibly original way to get your puppy some variety? This formula comes with a special and easy-to-follow set of feeding instructions and really does cover all those doggy life stages from 4 weeks up to seniors.
The Hypoallergenic NutriSource Food Review
NutriSource Grain-Free Lamb Meal & Peas Formula Dry
Pros
Both lamb and salmon in this dinner, which rolls in at a stupendous 28% protein;
Fat's at 18% and from an easily-identifiable source- chicken!
Glucosamine for both flexible and resilient doggy joints;
Vitamin E and partner zinc work together to protect your dog's skin while helping him to maintain a lovely sleek coat;
Alfalfa, beans, and peas all act as natural vitamin sources.
Cons
Contains egg and chicken fat, although both are all-natural.
Our Verdict: 4.5/5
If this adult formula dog food was entirely chicken- and egg-free, we'd give it 5/5 for a hypoallergenic option. Well, we'd give it 5/5 if we weren't recommending it for dogs who may have intolerances because it's a super-duper, all-around healthy dog food.
FAQ
What do veterinary professionals think of Nutrisource dog food?
Nutrisource is considered one of the few premium brands that are on the market. With quality protein sources and beneficial ingredients in each bite, this brand does offer your pup a quality food choice for a store bought brand. While Nutrisource is not veterinary grade quality, it is considered a premium brand for a reason. This diet has what your growing furry friend needs to succeed! You may spend a few extra bucks, but this diet is certainly above some of the lower tier store brands.
I'm worried about feeding puppy food with oats to my puppy. Can you help?
Good news, buddy, oats are gluten-free! Well, that is, they're gluten-free if they've been properly processed and remain uncontaminated in any way. What you need to be aware of is that, quite commonly, the ingredients used in mass-produced foods- no matter how high quality they are- may come into contact with one another during processing. So, even if oats are the only grain present in your puppy's food, you cannot rule out the possibility that they haven't come into contact with ingredients such as rye, or corn. If you've got a gluten-free puppy, it's usually best to stick to a specially crafted grain-free puppy food.
On the plus side, if you've got a puppy who's just fine with grains, oats are a very nutritious source of both protein and the skin-friendly silicon. That's one of the main reasons why premium brands such as the ones in our NutriSource food reviews include oats and oatmeal into their puppy food and dog food formulas. 
What part do peas play in a puppy food?
Vitamins K, B6, B1, A, and C are all found inside peas- and each plays a different role in keeping your puppy healthy, growing properly, and well. Vitamin B12, in particular, is pretty good for avoiding lethargy, growth problems, cerebral health, and a well-functioning gut.
Peas give your dog fiber and protein, too! They're a carb source that's gluten-free, and super smooth on your puppy's digestive system. Peas are actually one of the veggies that vets recommend as a healthy extra puppy snack for these very reasons. If this is something you're interested in, you can give them as a treat in their frozen state, steamed, or even just defrosted.
Last update on 2023-09-19 / Affiliate links / Images from Amazon Product Advertising API