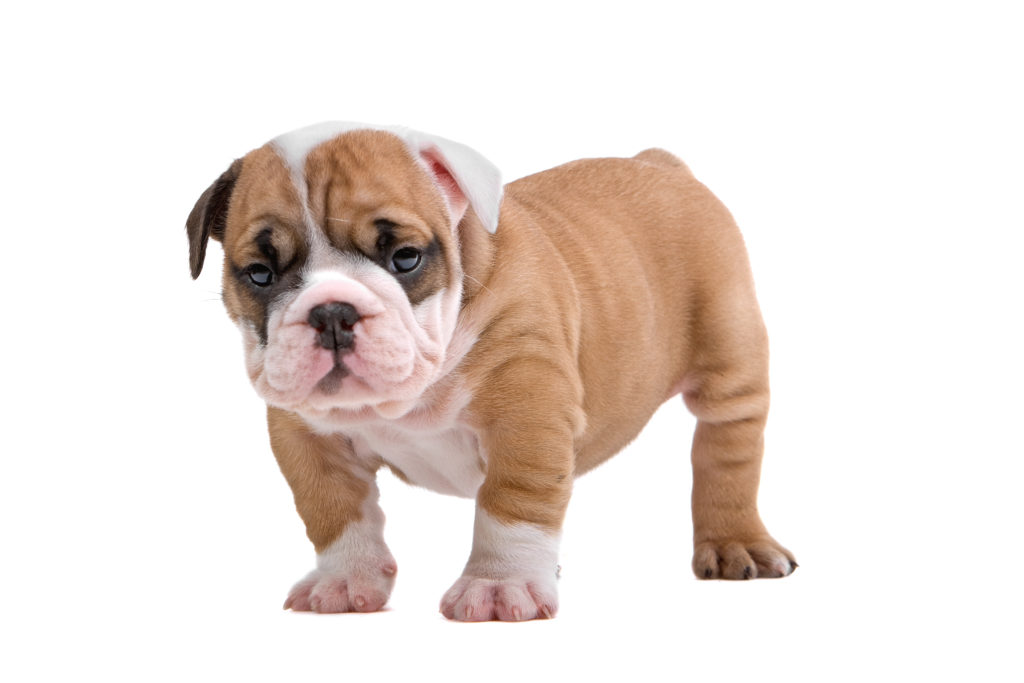 Short, stocky, and strong; our English Bulldogs probably seem a bit intimidating at first. Especially if you're not familiar with this medium-sized breed, they may seem a bit daunting. And, of course, you may have heard they were originally bred to fight against bulls!
Over time, however, they've gained popularity as loyal, loving pets. And as any Bulldog owner will tell you, they make utterly irresistible puppies. Here, we'll give you all the advice you need to pick out only the best food for your English Bulldog puppy!
Quick Review: Top-3 Dog Foods For English Bulldog
CANIDAE Grain Free Pure

Contains tasty, vitamin- and sweet potatoes
Contains probiotics for smoother digestion
Awesome 30% protein, it only contains 12% fat

Nutro Wholesome Essentials Adult

Contains fiber for easy digestion
Made with 22% protein
Only non-GMO, naturally ingredients

Wellness Core Natural Grain Free

Zero chicken, perfect for an intolerance
No grains
An awesome 34% protein
Picking Out The Right Bulldog Food
Have you ever felt overwhelmed by different dog food choices when shopping around? We understand, so we've gathered a couple of pointers. These should help you understand how to pick out an appropriate Bulldog food even when it isn't labeled as such.
English Bulldogs are medium-sized dogs. They typically reach a grown-up height of between one foot and 15 inches, but what really determines the best bulldog food is your pet's weight. This, in turn, will usually be between 40 and 50 pounds when your English Bulldog is fully grown, so be aware of this when you are choosing between brands.
Your Bulldog's calorie requirements will vary. These include his activity level, whether he's been neutered (or she's been spayed), and also, genetics.
So we've looked at why small dog food, large dog food, or giant dog food isn't always going to be suitable. Now let's look at what you should look for!
Best Puppy Food For Bulldogs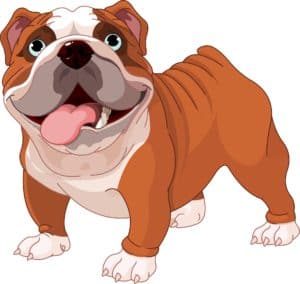 Your English Bulldog puppy may try to tell you otherwise, but the yummiest food isn't always the healthiest. And as you're now a puppy parent, it's up to you to make a responsible, nutritious choice. Luckily, you don't always have to sacrifice 'yummy' for it to be nutritious. Just stick to these tips and you'll have the best English Bulldog puppy food in no time.
Protein For Muscle
Puppies always have a greater need for protein and fat than adult dogs — but all dogs need protein. Canines are omnivorous, and they can't make all the essential amino acids they need to grow and thrive on their own.
This means you should keep your eyes peeled for Bulldog puppy food with 28% protein or more, as this is a good amount for developing puppies. And by good quality, we mean real fish, boneless chicken, or something you can easily picture. If you can't understand what it is, move on!
Fat and Calories For Energy
A reasonable amount of fat for a good English Bulldog puppy food is between 14% and 16%. This is a nice figure for puppies who are developing. And quite often, actively playing a lot, too!
It's not uncommon, however, to see Bulldog foods with slightly higher amounts of fat, ranging up to 18% or so. If you exercise your puppy quite a lot, this shouldn't really be a problem. What matters most is that they are getting enough — but not too much — energy on a daily basis. Too little and they may not grow up properly, too much, and they risk becoming obese.
Vitamin and Mineral Requirements of Bulldogs
When scouting for the best puppy food for Bulldogs, try to keep an eye out for whether it has sufficient calcium. The best brands of Bulldog food will usually have at least 1% calcium.
We're also big fans of vitamins and minerals — they're essential if our English Bulldog puppies are going to stay healthy! When you read the 'guaranteed analysis' on any AAFCO-approved doggy kibble, check that the most important vitamins are there — A, B, K, E, D, and C.
Bulldog owners should also look to see if these come from genuine veggies rather than supplements, because real greens (and fruits, of course!) often also contain fiber to help your puppy's Bulldog food go down easy.
The Best Food For English Bulldog Adults
Once your little Bulldog grows up, he's no longer in need of as much protein. While chicken, fish, or whatever he's currently loving will always be a part of his diet, your dietary focus will now be on maintaining his healthy weight instead of focusing on growth. He's now going to be getting enough protein from a Bulldog food with about 22-25%.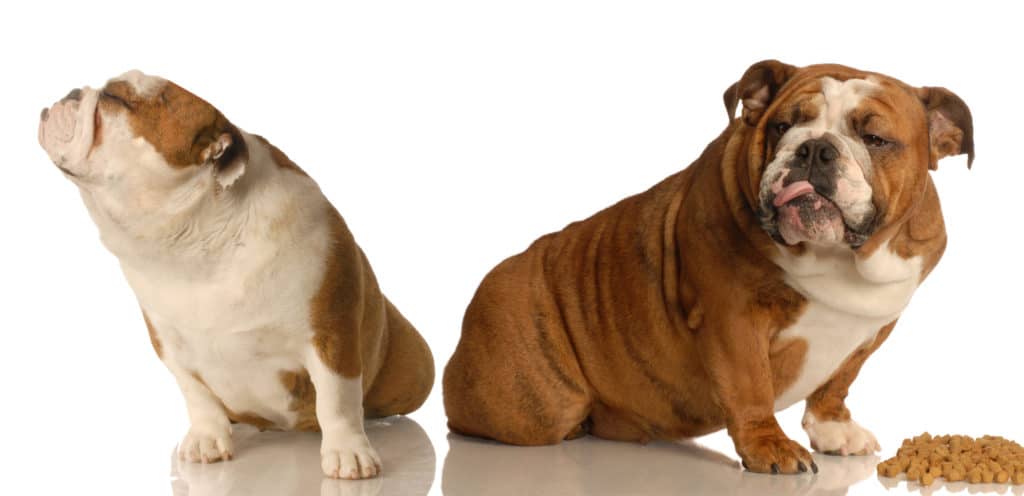 He will also need less fat, of course. If you keep feeding your best friend puppy kibble into their adult life stage, he'll be at risk of gaining too much weight. And, as English Bulldogs often already experience some breathing difficulties (they have short snouts), it's important to keep the extra pounds off your canine friend.
Bulldogs Need To Maintain A Healthy Weight
Bulldogs are one of the canines that need to avoid weight gain as they age. Since Bulldogs are brachycephalic (have short snouts), they are automatically prone to breathing complications. Extra weight on a Bulldog can further amplify these breathing complications and make physical activity really tough for your furry friend. While maintaining a healthy weight is important for any dog's health, it's especially crucial for our Bulldog friends. You can avoid obesity in your pup by switching them to adult kibble once they reach 1 year of age, sticking to their recommended calorie intake each day, and helping your pup remain active.
Best Food For English Bulldog Puppy — Wet or Dry?
The best Bulldog puppy food can be wet or dry, it really depends on what works best for you and your dog. Alternating between the two is one way to go, and can help you save a little bit of money if canned food is too expensive to buy all the time. There are also a few other pointers to help you make the choice:
Wet Bulldog food smells better to your pet, so this certainly can make his dinnertime a bit more exciting;
Canned food usually contains more moisture, which is a big plus for Bulldogs who can't often be found near the water bowl;
Dry kibbles last longer in general. While you can refrigerate canned doggy dinners, they'll never ever last more than a few days once opened; and
Sometimes, they go extremely well together in terms of texture and variety, like ice-cream and sprinkles!
So, the main things to think about are your budget, how you'll store the food, and what your Bulldog puppy seems to do well on. Other than that, you'll find relatively simple instructions on the can or bag which can help you understand the right amount when switching between the two.
Reviews of English Bulldog Puppy Food
So now, let's see how different puppy dinners stack up…
Earthborn Holistic – Puppy Vantage
Pros
Contains E Vitamins, a good thing for dogs with dry or even itchy skin;
Besides meat-based protein sources, this also features non-meat ingredients such as iron-rich peas and egg;
Your Bulldog puppy will get antioxidants from superfoods such as blueberries and spinach;
A healthy 28% protein; and
A mix of both fish and chicken for tasty, delicious variety.
Cons
Not all dogs will have an active enough lifestyle to warrant 18% fat, which this Bulldog puppy food contains.
Our Verdict: 4.5/5
All in all, a very good choice for gluten intolerant Bulldog pups. It provides an easy-to-digest and complete formula for development, featuring nice leafy vegetables.
CANIDAE Grain Free PURE Dry Dog Food
Pros
There are fewer than ten key ingredients for you to check. If you have yourself a puppy who needs to avoid certain ingredients, this can come in very handy;
Contains tasty, vitamin- and fiber-packed sweet potatoes;
Real yummy chicken is the primary ingredient, followed by fish, peas, lentils, and iron-rich peas;
Contains probiotics for smoother digestion; and
While it has an awesome 30% protein, it only contains 12% fat.
Cons
If your puppy needs an English Bulldog puppy food for an active lifestyle, this 12% fat might be a little bit low.
Our Verdict: 5/5
We are fans of everything about this
Canidae
Limited Ingredient formula. It's soft on sensitive tummies, has a great amount of protein for our Bulldogs, and includes real veggies. Five stars!
Nutrisource Small/Medium Breed Puppy Food
Pros
The cute little kibble pieces that you'll find in this blend are perfect for Pitbull puppies;
Low-ash milled chicken is the headlining ingredient;
Glucosamine and Omega acids come from the menhaden meal in this recipe;
Contains 32% delicious protein from a mix of real meats;
Supplemented with all the vitamins for healthy and happy puppy development.
Cons
21 % fat is a fairly high figure, even for puppy food. In this respect, it's not suited to very sedentary puppies.
Our Verdict: 5/5
'Bioavailability' describes how much of your Pitbull food gets taken in and how much passes through, unused.
Nutrisource
is very much focused on making sure the ingredients in your Pitbull dog food are easy to digest and absorb — and this recipe is no exception.
Wellness Complete Health Natural Dry Puppy Food, Chicken, Salmon & Oatmeal
Pros
Boneless chicken, peas, garbanzo beans, and lentils are the first few ingredients. All protein-rich, all delicious!
Made with authentic, whole vegetable goodness, featuring apples, carrot, and sweet potato;
Gives your Bulldog pup a whopping 32% protein;
18% fat, which has been preserved naturally; and
Also includes salmon oil, a nice source of Omega acids like DHA.
Cons
Nope, this is a brilliant food, and at a reasonable price, too. Good if you've got small OR medium-sized four-legged buddies.
Our Verdict: 5/5
Salmon oil is a healthy ingredient for growing pups, who rely on DHA for lots of developmental processes. With 1.2% calcium, it's a balanced, nutritious, and oh-so-delicious doggy dinner!
Natural Balance Limited Ingredient
Pros
Zero filler ingredients (the cheap products sometimes used to 'bulk up' poor-quality dog foods);
Only one meat-based protein—duck;
Smaller kibble;
Naturally preserved, colored, and even flavored; and
Promotes cerebral development with DHA.
Cons
Not suitable for puppies who can't eat potato; and
Only contains 22.5% protein.
Our Verdict: 4/5
Despite its relatively low protein content, this is well-balanced Pitbull food for those on limited diets. It contains optimal amounts of calcium, minerals, vitamins, and is made without any fillers.
Best Adult Bulldog Food: Reviews
If your puppy has reached adulthood, here are some of the best English Bulldog foods for grown-up pooches.
Purina Beyond Simply 9 Natural Limited Ingredient, Adult Dry Dog Food
Pros
Lamb's our top ingredient, followed by chicken meal (as opposed to by-product meal from chickens);
Made with whole oats, to aid digestion and provide fiber;
Has 24% protein and 14% fat;
Made with Omega-6 acids from sunflower oil; and
Uses only natural preservation agents, flavors, and colors.
Cons
While it contains vitamin supplements, it's missing any real fruit or vegetables.
Our Verdict: 4.5/5
If your pet requires a limited ingredient diet, this English Bulldog food is some of the best. As well as having zero grains, it also uses only genuine, wholesome forms of animal protein.
Merrick Grain Free Dog Food
Pros
Real buffalo makes a delicious, lip-smacking top ingredient!
Cooked here in the States;
Contains Omega acids to keep those Bulldog coats nice, smooth, and glossy;
Totally grain-free; and
Offers 38% protein.
Cons
This may be a little more costly than some other brands.
Our Verdict: 5/5
This Merrick food uses high-quality ingredients. It's AAFCO-certified for grown-up pooch maintenance, cooked in the USA, and uses whole foods rather than rendered or obscure ingredients.
Wellness Core Natural Grain Free
Pros
Zero chicken, perfect for those dogs with an intolerance;
No grains;
An awesome 34% protein;
Made with joint-healthy glucosamine; and
Includes real veggies!
Cons
Not suitable for pooches who can't eat potato.
Our Verdict: 5/5
This grain-free ocean ingredient dinner from Wellness is suitable for grown Bulldogs of all sizes, as well as bigger or smaller breeds. Because its gluten- and poultry-free, it's an awesome menu option for a lot of dogs with sensitive tummies.
Nutro Wholesome Essentials Adult Dog Food
Pros
Contains fiber for easy digestion;
Real, recognizable meat ingredients — lamb, chicken fat, and chicken;
Made with 22% protein;
Contains loads of healthy vitamins to keep your Bulldog in top form; and
Features only non-GMO, all-naturally preserved (and yummy!) ingredients.
Cons
If you want top-quality ingredients such as the kind Nutro uses, expect to pay a little more!
Our Verdict: 5/5
If your pet suffers from flatulence or an upset tummy, try looking into more natural products. That is, English bulldog food that doesn't use synthetic additions for preservation or coloring. With oatmeal for digestion on top of this, Nutro Wholesome Essentials is a great brand to try.
Blue Buffalo Life Protection Formula Natural Adult
Pros
Top-quality natural ingredients only are used in this recipe;
That means it features unprocessed grains, garden fruit, and vegetables;
There's no maize, soya beans, or even wheat;
22% protein; and
Includes that special amino sugar for joints — glucosamine.
Cons
Our Verdict: 5/5
With included Omega acids, your English Bulldog can enjoy a radiant, glossy, smooth coat and healthy skin. There aren't any by-products of the poultry variety either, just nice, nutritious, wholesome ingredients. Five stars!
FAQ
What are some common health problems of English Bulldogs?
English Bulldogs are brachycephalic. Put simply, they have short noses, which means they can sometimes experience difficulties breathing or cooling down. As an owner, it's important to look after your pet by ensuring he or she gets enough exercise and doesn't overeat. If your Bulldog becomes overweight, for example, breathing difficulties can be made a bit worse. Try to stick with healthy English Bulldog food, and follow your vet's (or the manufacturer's) advice when it comes to feeding amounts.
Does my Bulldog need weight-loss food?
If you're concerned that your Bulldog may be gaining too much weight, the best thing you can do for him is to consult a vet. Your vet may recommend changes to his diet and may suggest more exercise for your pet. Don't worry too much if you've been told to switch to weight-loss Bulldog food — there are many options available. You may also want to look at our dog food calculator to re-assess whether you might be overfeeding your puppy or dog.
Helpful links
Last update on 2023-01-22 / Affiliate links / Images from Amazon Product Advertising API