What's special about dog food for Pit Bulls?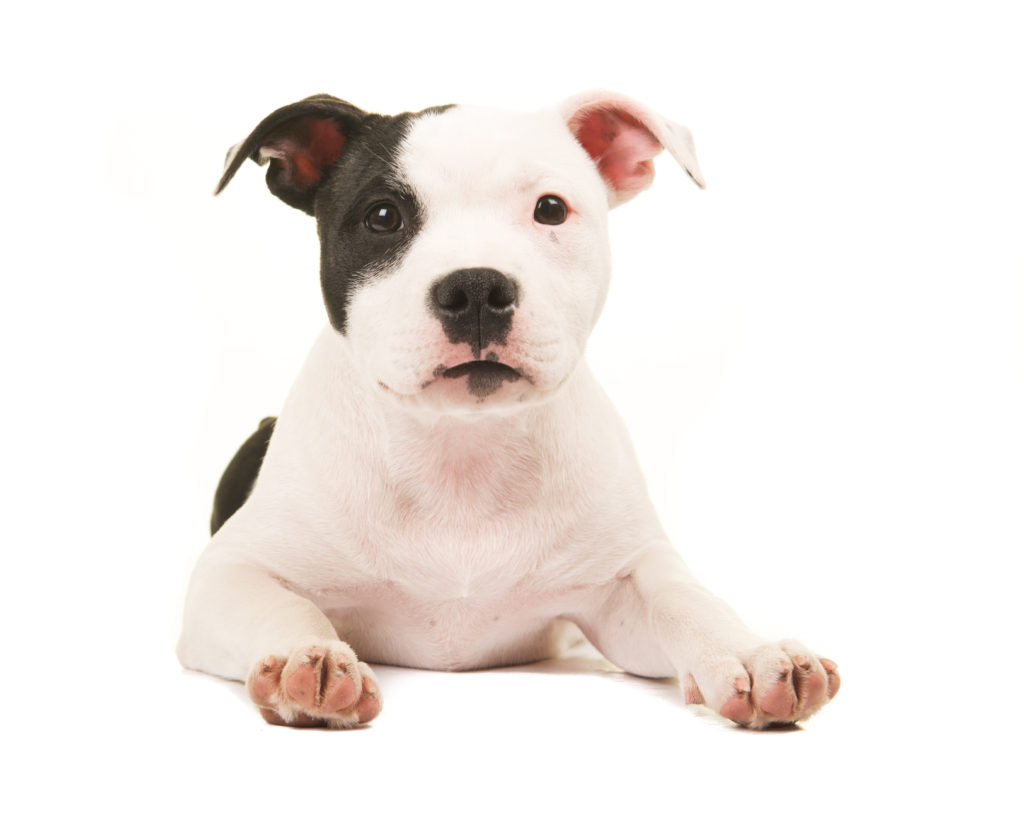 Despite their muscular, awesomely strong looking appearances that would probably be better managed while out on walks with the best no pull harness then a traditional collar, Pit Bulls are absolute sweethearts most of the time. Don't even get us started on about Pit Bull puppies with their big floppy ears and cute little bellies, they're out of this world adorable!
Whether you've got a Pit Bull puppy or grown-up, you're in the very best place for the scoop on what the best dog food for Pit Bulls should look like. Large breed dogs like Pit Bulls can vary a lot within their category in terms of what they need from their dog food each day, and we've outlined what you should be keeping an eye out for if searching for dog food for Pit Bulls. We found this list on JugDog of dog food you might be interested in. Of course do your research of the many different foods available, especially if you are not entirely sure how well it will go down. An example of this is when a friend was wondering 'is pineapple safe for dogs?' She did the right thing by looking it up first.
In short, there are specific requirements for Pit Bulls that make them distinct from other large breed dogs. They have super strong and defined muscles, which is easy to see, so they need specific dog food with a protein content that's quite a bit higher than regular dog food. Pitties are often ripe candidates for hip dysplasia and consequently potential arthritis or walking difficulties, so DHA is something to keep a sharp eye out for in the best food for Pit Bulls. Higher fat than other breeds is also a big tick for specialized Pit Bull dog food, as is the case with food for Pit Bull puppies because dogs of this breed are playful, intensely energetic and need loads of exercise.
Don't worry if this sounds like a lot, as usual we've got you covered with our review of the most important concepts to think about when picking the best dog food for Pit Bulls. And no, we didn't forget about those of you lucky enough to have a Pit Bull bundle of joy, cause we've covered the best food for Pit Bull puppies too!
Quick Review: Top-3 Dog Foods For Pit Bulls
BLUE Wilderness High Protein Grain Free

Fish meal, chicken meal - 34% protein
Has 'bits' for minerals, vitamins
16% fat, great for a Pit Bull puppy food!

Bully Max High Performance

Free from corn, wheat, and soy
30% is protein
20% fat, and 535 calories for each cup

NUTRO Grain Free Natural

13% fat
Vitamins A, C and antioxidants
Made with fish oil for DHA
Scouting out the most nutritious food for your Pit bull puppy or an adult dog November 2019
Whether you're choosing the best dog food for your grown-up Pit Bull, or a Pit Bull puppy food for your growing little buddy, there are some key things that you should always be looking out for. We've highlighted these for you in our reviews of Pit Bull dog food and included special food for Pit Bull puppies, so you'll always make the best dog food choice!
Calorie requirements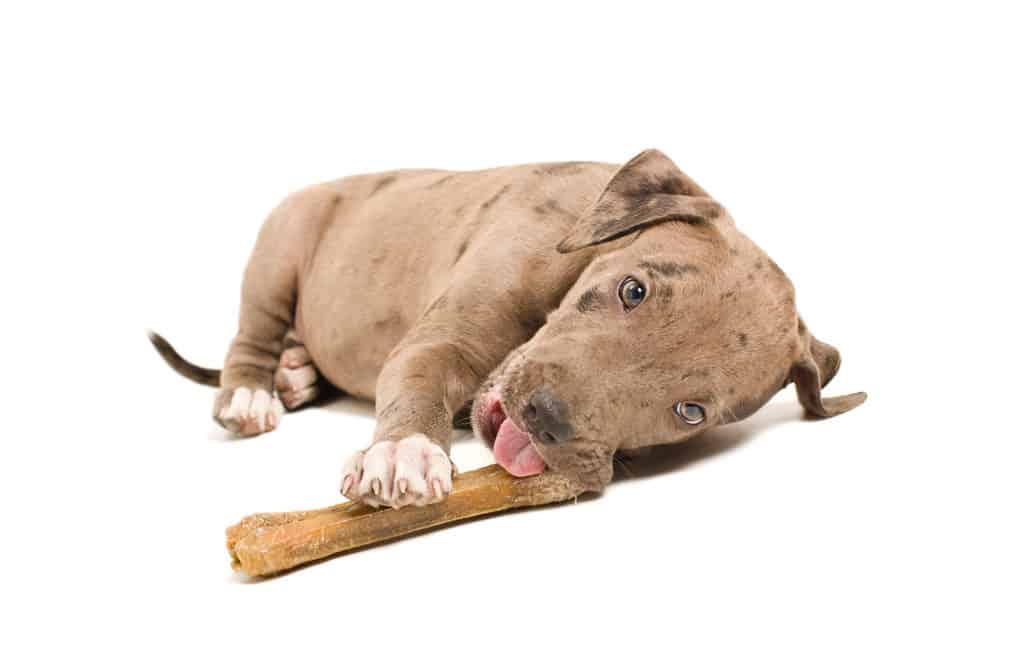 The best food for Pit Bull puppies is going to include larger amounts of calories than adults, just because these angels are growing so fast! They're building strong muscles and solid bones and running around a lot, which means it's super important for Pit Bull puppies to get something between 2000 and 3300 calories each day from their puppy food. As Pit Bull puppies should be eating at fairly frequent mealtimes, you'll want to do the maths around how many calories each cup of Pit Bull puppy food is giving them. Before you get the calculator out though, you'll be happy to hear that the best food for Pit Bull puppies will come with handy little guides on the side
As large breed dogs, the calorie (kCal) requirements for adult Pit Bulls is more about their activity levels, whether they've been neutered or not, and their full adult weight. Being large breed dogs, grown-up Pit Bulls could need anywhere between 1165kCal daily for a neutered, small and pretty inactive 50-pound Pit Bull, to around 1700kCal for an intact, active 67-pound adult Pit Bull. Crazy difference, right? What this means is you should keep a good eye on your Pit Bull's activity levels and consider all these factors when deciding how much to feed him. The best dog food for Pit Bulls will always give you some kind of feeding guideline, similar to the best food for Pit Bull puppies we've outlined above.
High Protein for growth
Pit Bulls are just like all other dogs- natural omnivores, though they seem like carnivores from the way they gobble down their meaty dog food! It's no surprise then that protein is the number one macronutrient to look out for when selecting the healthiest food for Pit Bulls. Protein is the building block of strong muscles and bones, not to mention well-functioning immune systems for natural protection against diseases.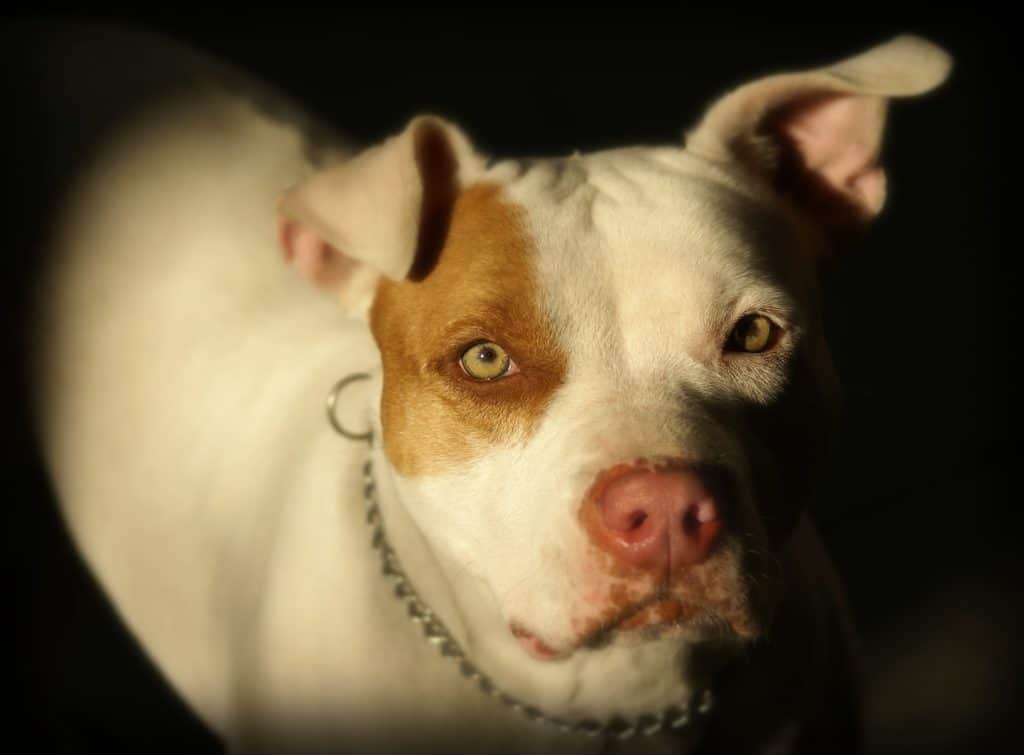 It's important to make sure that your adult Pit Bull is getting a healthy amount of top quality sources of protein out of their dog food, whether it's wet or dry dog food for Pit Bulls. It's a common misconception that our canine friends will require super high amounts of protein simply because they're a particularly muscly and strong breed. What's crucial to remember is that the ideal amount of protein for your Pit Bull depends on his activity levels, and not only his breed. Less active Pit Bulls will be requiring somewhere around the 30% mark, if you're looking for an approximate guideline. This will increase with your Pit Bull's activity levels and how much exercise he's getting, as this affects how much muscle growth and maintenance he'll need.
Pit Bull puppies require higher protein levels because they grow much, much faster than adult or mature Pit Bulls. So you'll need to keep an eye out for dog food brands that recognize this and use only high-quality protein sources to make the best Pit Bull puppy food. By good quality, we mean puppy food that lists real meat sources as the number one ingredient, or puppy foods that list a whole range of quality real meats highly on their ingredient lists. Lean meat and egg sources are what you'll generally find in the best food for Pit Bull puppies, and meats like chicken, lamb, and salmon are metabolized easily and hard to fault. A good protein percentage for Pit Bull puppies will typically be in the area of 30-40%.
Fat for energy
The second super-important nutrient needed by Pit Bulls big and small(er!) is fat. The best dog foods for Pit Bulls will include sources of fat that are natural, like salmon or fish oil and poultry fat. This is because natural, high-quality fats will very often be a source of key vitamins too, like Vitamins A, K, E and some of the B vitamins. Your adult Pit Bull is going to need on average, around 20% fat for a super energetic Pit Bull.
Pit Bull puppies need fat for energy too, and again at high levels like adult Pit Bulls. To give these large breed puppies some fuel for growth, the best Pit Bull puppy food should contain around 14-20% fat. Too much above this and your Pit Bull puppy is at risk of developing skeletal abnormalities due to excessively high calories and a growth rate that is too high. Not good!
Carbohydrates and their roles
We've mentioned before that dogs, Pit Bulls included, have no real dietary need for carbohydrates. In fact, carbohydrates are only desirable in lower amounts and only often play a role in dog food for Pit Bulls because of their ability to keep kibble in shape. Carbohydrates give dry dog food last longer in storage, so they're not entirely bad given that wet foods can be pretty expensive to buy all the time.
As larger breed dogs, Pit Bull puppies require nothing higher than a 25-30% carbohydrate content for growth and adults are in the same boat. You'll probably be interested to know that carbohydrate content is how good dog food for Pit Bulls and Pit Bull puppies will stand out from just regular old dog food. This is because it will manage to contain carbohydrates in both healthy amounts, and in a form that's providing your Pit Bull with additional benefits like vitamins K, C, A, E and some of those many B vitamins! Also, good dog food for Pit Bulls will have lower carbohydrate levels because unhealthily high carbs can give your dog runny stools and even diarrhea.
Minerals and the good bits for all-round health
Minerals and vitamins are an important part of your Pit Bull's diet and overall health, that we've decided to break down the key things his dog food should include. We've also included their key roles and the typical ranges you should be searching for amongst the best food for Pit Bulls and Pit Bull puppies.
Calcium
Many brands making the best food for Pit Bulls will state that they contain calcium for strong doggy bones and teeth. What our research shows, is that only the best dog food for Pit Bulls and Pit Bull puppy food will contain this mineral in levels that within a healthy range between not enough and too high. The other super crucial thing to remember is that calcium must be balanced properly with phosphorus in a ratio close to 1.2:1 to avoid over-supplementation or bone deficiencies. So keep a good eye peeled for this, as the best dog food for Pit Bulls will be in the know to balance these two elements properly.
DHA
Technically DHA is a component part of Omega-3 fatty acid rather than a vitamin or mineral. Like other puppies, little Pit Bulls originally get DHA from their mother's milk. When they're moving to puppy food it's essential that this is an included part of their diet. Still, it contributes in a big way to Pit Bull's eye, nervous system and cerebral development. Good natural sources of DHA are fish and salmon oil, which all good dog foods and puppy foods for Pit Bulls should contain.
Other minerals for dog and puppy nutrition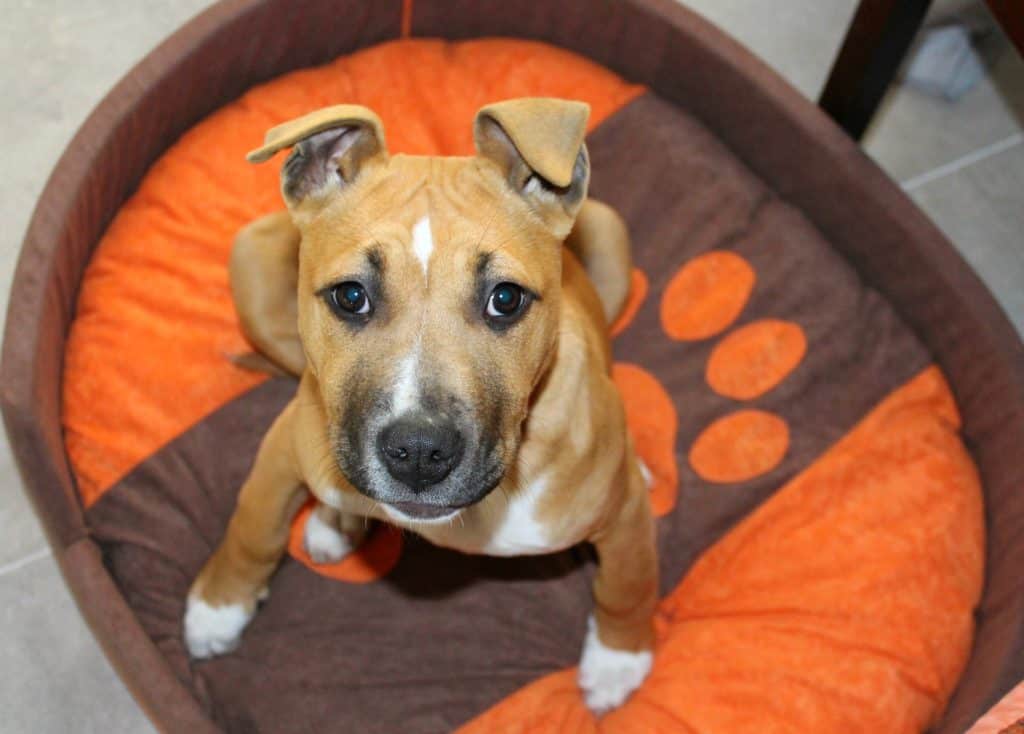 With the best Pit Bull dog food, you'll also notice that the nutritionists developing them are putting in a whole bunch of other macrominerals and trace minerals. Macronutrients are needed in larger quantities than trace minerals, so it's good when you look at your dog food's label and see things like:
magnesium for bone and muscle growth
chloride together with sodium to help with nervous system, cardiac and muscular function
potassium for cardiac function and healthy cells
sulfur for looking after your dog's skin, nails and fur
What's the deal with wet and dry food for Pit Bulls?
We've been asked this question so much, we've decided to list the key things that you should be considering while deciding between wet dog food and dry dog food for your favorite Pit Bull. First up, it's important once again to think about how active your specific Pit Bull is when you're deciding whether to get wet or dry food. Active dogs will always be at higher risk of getting dehydrated because they're metabolizing much faster than relatively sedentary dogs.
What brands make special food for Pit Bulls?
There are actually several top brands making dog food which covers the exact nutritional requirements we've outlined for Pit Bulls. They also make dog food for Pit Bull puppies too, bless their little doggy hearts!
Because we've got some Pit Bulls owners in our team, we've definitely done our research into the healthiest food for Pit Bulls and Pit Bull puppies. What we've listed for you in our reviews are some of the reputable brands of dry dog food for Pit Bulls which have come out the leading players from our research into the best food for Pit Bulls.
What is the best food for an adult Pit Bull?
We've reviewed the top brands of dog food that make a special blend designed for grown-up Pit Bulls. We looked specifically at…
protein, fat and carbohydrate content
ingredient sources and quality
vitamin and mineral profile
extra features that make them awesome for dogs
…and chosen our absolute favorites to save you time.
Bully Max High Performance Super Premium
Pros
Free from corn, also free of wheat, and you guessed it- it's soy free too
30% of this adult Pit Bull food is protein, therefore it's fantastic for energetic Pit Bulls right at the top of the activity range
20% fat, a specially designed ratio for super active Pit Bulls that's coasting in at 535 calories for each cup
5 stars out of 5 in ratings for performance!
Cons
In most cases, this will contain too many calories and too much fat for less active dogs
Blue Buffalo Wilderness Adult
Pros
34% protein from real, deboned chicken as the top ingredient. Yummy!
4% calcium which is in an ideal ratio with phosphorus
Contains glucosamine for strong, healthy joints
No corn, soy or wheat fillers.
Cons
At 15% fat, this is one for the less active Pit Bulls. Pit Bulls who are more active will require more fat calories, around 20%.
Taste Of The Wild
Pros
Mixing up the main flavors with bison and venison is a cool way to get your Pit Bull some variety from chicken-based dog food!
Sweet potato comprises the main bulk of carbohydrates, meaning your Pit Bull is also getting Vitamins B1 and B2, B6, C and phosphorus
18% fat, for tasty Pit Bull dog food
A healthy formula with tomato, blueberries, raspberries for natural vitamin E, zinc and selenium for immune system support
Grain-free, naturally
Cons
With 370 calories in every cup, it recommends a total of 1110 kCal for a 60 pound Pittie daily. You'll probably want something a little higher than this for most Pit Bulls unless they're not very active at all.
What is the best food for my Pit Bull puppy?
BLUE Wilderness High Protein Grain Free
Pros
Fish meal, chicken meal (not chicken by-product meal!) and boneless chicken all work together in this 34% protein puppy food for Pit Bulls
Made with healthy amounts of peas and sweet potato for carbohydrates and energy
Has 'bits' for minerals, vitamins and cancer-fighting antioxidants that are cold-cooked so that they aren't lost through cooking
16% fat, great for a Pit Bull puppy food!
Rich in DHA like all good dog food for Pit Bull puppies should, for vision and brain development
Perfectly balanced calcium to phosphorus mineral ratio for your Pit Bull puppy's growing bones, with total 1.2% calcium.
Cons
Remember, our Pit Bull puppies are going to be eating quite a lot of puppy food, so it might get a little expensive. We think it's worth it though for the premium brand and nutritional content.
NUTRO Grain Free Natural<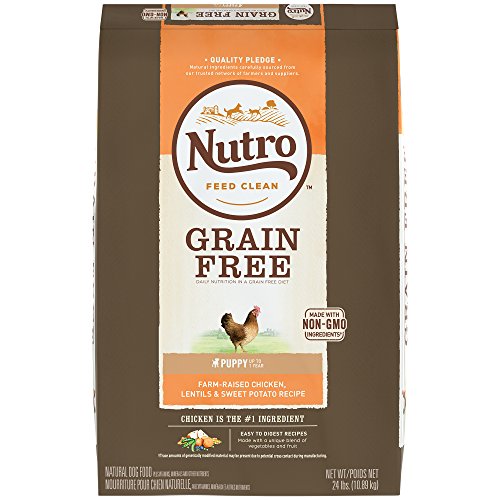 Pros
Chicken and chicken meal are the number 1 and 2 ingredients in this excellent puppy food
13% fat is right in the recommended range for a top Pit Bull puppy food
A beautiful blend apples, blueberries, and carrots for Vitamins A, C and antioxidants
Made with fish oil for DHA
Cons
With 27% protein, it's a little lower than the other brands we've reviewed, but it's still right at the superior end of the market for Pit Bull puppy foods!
Wellness Complete Health Natural
Pros
Calcium and phosphorus in an exactly 1.2:1 ratio
18% fat from natural chicken fat sources
It's very much full of lovely antioxidants, vitamins, and minerals
Vitamin A, C, B2, B6, K and E from spinach, tomato, carrot and green tea
Cons
With 29% protein, it's on the lower end of the scale for growing Pit Bull puppies
FAQ
Why is Pit Bull dog food better than regular dog food?
It's a smart idea to switch to another dog food if it's designed for your dog's specific breed, because top brands that design for specific breeds will develop their formulas especially. This means that their nutrient profiles, ingredient type and things like kibble structure are carefully crafted with Pit Bull's particular needs in mind. Specially designed dog food for Pit Bulls will, therefore, be higher in protein than other dog foods, and consider things like calcium and crunch for strong doggy jaws!
Can I change his menu to a brand of dog food that's specifically designed for Pit Bulls?
Good question, and one we get asked a lot! If you're changing from your Pit Bull's current dog food to a specific dog food or puppy food for Pit Bull's, it's best to do so gradually. It's best to start with a small amount of new dog food for Pit Bulls mixed into his old food on Day One. Then over the course of a few days to a week, you'll be able to increase the amount of new Pit Bull dog food each day until he's eating 100% food for Pit Bulls. This way you'll decrease his chances of having any tummy aches from a big sudden switch.
How much dog food should a Pit Bull eat?
Hopefully our helpful guide has given you an idea of how important it is to give your Pit Bull the right amount of calories for his activity level. We've highlighted how it's super critical that really active Pit Bulls consume sufficient calories for their running around. Also, we've shared with you how the best food for Pit Bull puppies should give them more healthy, protein- and fat-based calories for growth than adult Pit Bulls are going to need. The most important thing to remember though is that all dogs are different, so the ideal amount of dog food will vary between Pit Bulls and throughout their lives.
Helpful links
Last update on 2019-11-16 / Affiliate links / Images from Amazon Product Advertising API