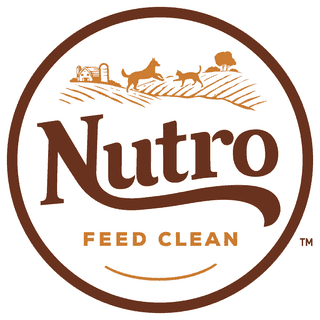 Good morning, or evening, or afternoon, friends! Wherever you may be right now, we hope you're excited to find out a little more about
Nutro
, and how their puppy food and dog food can benefit your little fluffy friend. As always, we've brought you the low-down on all the nutrients, ingredients, variety, and flavors so that you don't have to do it yourself.
Quick Review: Top-5 Dog Foods From Nutro
Nutro Grain Free Puppy

28% protein
Contains- for eyes and brain function
Vitamins A, C, K, and E

Nutro WHOLESOME ESSENTIALS Puppy

26% protein
Fish oil's - glucosamine here
Fat's at a healthy 15%

Nutro ULTRA Puppy – Chunks in Gravy

Protein's at 9%, 6% - fat
Spinach, pomegranate, blueberry, pumpkin
There's avocado in here - B vitamins

Nutro MAX Puppy

Zero corn, no wheat, and no soy
No milled by-products from chicken
28% protein

Nutro Limited Ingredient Diet

22% protein and 13% fat
Whole heap of healthy nutrients
Pretty nifty feeding guide
Who is Nutro?
Nutro is over ninety years old, and their headquarter resides in Tennessee. The company is owned by Mars Inc., who acquired them in 2007. Like a lot of successful dog and puppy food brands, they also make cat food and have a strong focus on producing what they call 'clean' food- or kibble and chow that's made without genetically modified ingredients.
The company also takes part in and runs quite a few charitable initiatives, such as a program that upgrades dog parks, and local pet food donations throughout the States. What do you think, isn't that great?
What's unique about Nutro?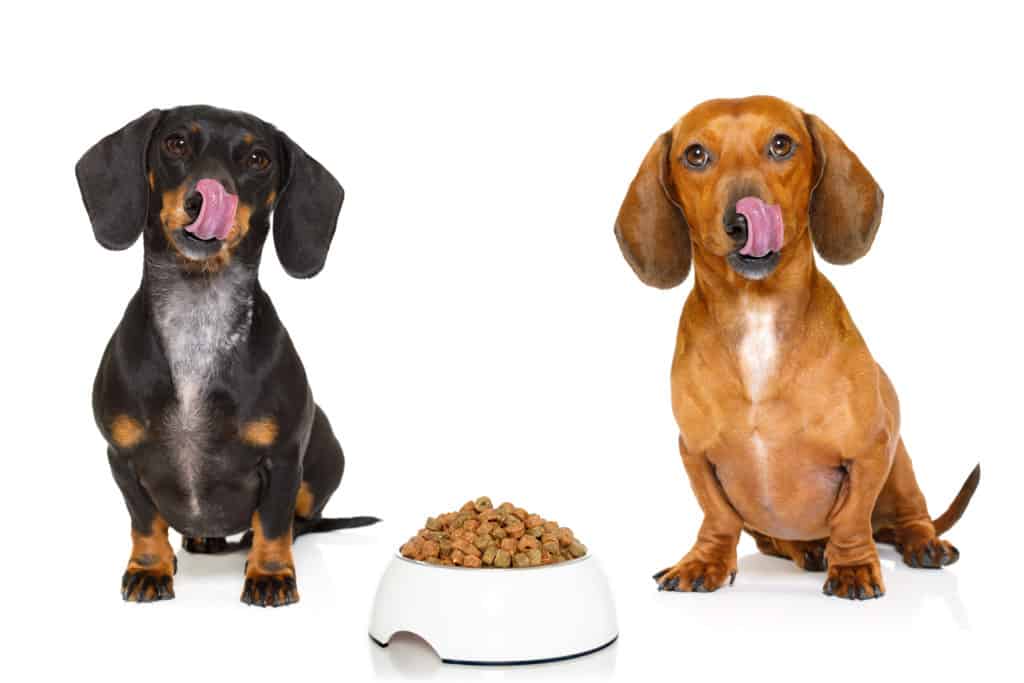 Nutro makes a wide range of different formulas, which is why we've included Nutro large breed puppy food reviews AND Nutro small breed puppy food reviews amongst our regular features. So we can save you time shopping, we've summarised the three brands that Nutro make- Nutro,Max, and Ultra.
Nutroalways uses either salmon, venison meal, lamb, or chicken as the key protein ingredient. You'll find there are several lines depending on whether your puppy or dog requires a hypoallergenic (Limited Ingredient), gluten-free (Grain Free), weight loss (Lite and Weight Management), or even just a luxurious snack (Petite Eats). There's also a Wholesome Essentials range under the Nutro brand, which includes special breed-specific meal options from toy to large, as well as life-stage-specific kibble for puppies, mature dogs, and veterans. There are a lot of chicken and lamb recipes in the Wholesome Essentials range, but you'll also find venison and salmon.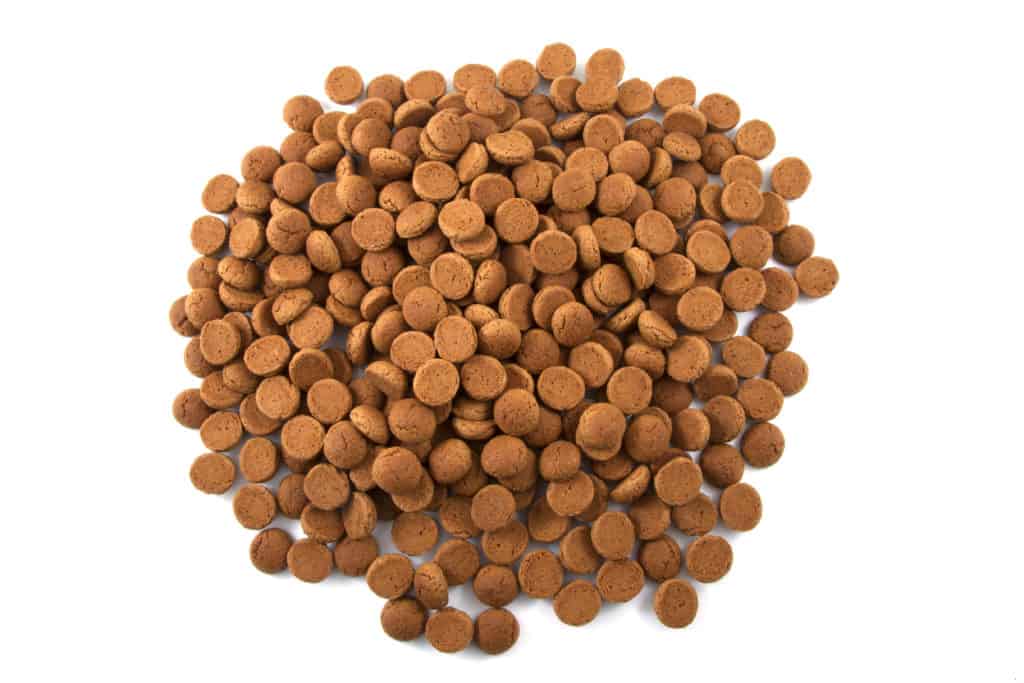 The Max line of dog foods offers both grain-free and regular options, but you'll find absolutely zero corn, or wheat, or soy in any of them. When grains are used, they will typically be whole rice, oatmeal, or sorghum. The two former ones are really gentle on digestion, and the latter is usually gluten-free. There are actually fewer veggies and fruits in these recipes than you'll find in the Ultra line, for example, but it's still super healthy and draws on multiple protein sources like chickpeas and peas.
Ultra offers a mix of proteins, but always with real, boneless chicken in the top spot. You'll find superfoods dotted all through these formulas, like chia seeds, flaxseeds, kale, spinach, and blueberries for vitamins and antioxidants. There aren't any recipes in the Ultraline that are totally grain-free, but we're definitely digging the all-natural nutrient sources.
Why the Nutro dog food reviews and Nutro puppy food reviews?
We've decided to make a special Nutro dog food review- and included a Nutro Max dog food review too- because we appreciate the fact that the brand makes healthy, natural food for our best friends. They do so by:
Avoiding the use of synthetic, non-natural preserving agents, flavors, or colors;
Leaving out the by-product 'fillers' from chicken;
Skipping out the corn ingredients, wheat, and protein from soy;
Implementing strict quality measures for manufacture;
Drawing on either a lot of different protein sources or just one meat- depending on your puppy or dog's dietary restrictions;
Using genuine meat as the top, key ingredient in many- if not all- of their recipes.
Summing it up, Nutro is definitely one of the healthier brands in terms of ingredients. They make high-quality food that complies with stringent safety and nutrition standards, and they have a reliable reputation as part of a larger, international company. Let's take a look!
The Nutro dog food reviews
The Nutro Grain Free Dog Food Reviews
Nutro Grain Free Puppy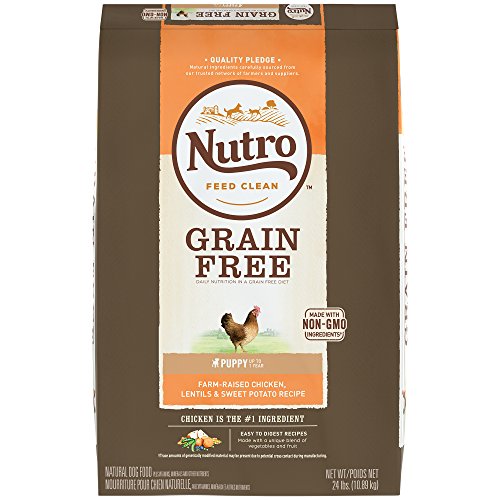 Pros
28% protein; an excellent amount of those developmental building blocks that all shapes and sizes of puppies require;
Contains- for eyes and brain function- EPA alongside DHA;
Apples, carrots, blueberries, peas, and sweet potato all give healthy boosts of Vitamins A, C, K, and E;
Iron, copper, manganese, all fantastic for preventing those mineral deficiencies;
Perfect for pups of up to 8 months!
Cons
Contains potato, which some dogs may be less able to tolerate.
Our Verdict: 5/5
This one's a fitting choice for puppies of any weight between 10 lb and 200 lb! That's especially great if you've got more than one pup and more than one breed!
Nutro Grain Free Natural Adult
Pros
Multiple protein sources, from chickpeas, peas, lamb, lentils, and chicken;
Zinc, along with healthy Vitamin E, is particularly good for maintaining resilient skin;
Real lamb meat's the first, leading ingredient, and contributes to a total of 25% protein;
Suited to mature dogs of up to around 65 lb, so just great for those smaller Huskies and Labradors, as well as more petite Daschunds and Yorkies;
Zero non-natural coloring agents or flavors.
Cons
Like the grain free version of Nutro puppy food that we've just recommended, it also contains potato.
Our Verdict: 5/5
This grain-free adult lamb and lentil formula is pretty excellent if you want to make sure your adult dog isn't getting too much of any one ingredient. Because even dogs with zero intolerances can benefit from a wide variety of ingredients in their diet, this is a five-star option in our books!
The Nutro Puppy Food Reviews
Nutro Wholesome Essentials Puppy
Pros
26% protein, mostly from real sources, and just great for building lean muscle mass in those larger puppies;
Made with some oatmeal, which is both super-soft on digestion and surprisingly high in protein;
Fish oil's the natural source of glucosamine here;
Fat's at a healthy 15%;
Absolutely zero milled by-product ingredients.
Cons
Contains rice, in several forms, so it's not for puppies who need to be going grain- or gluten-free.
Our Verdict: 5/5
Larger puppies also require relatively high levels of glucosamine and it's sidekick chondroitin in order to help stave off joint problems. Chicken meal's an awesome source of these nutrients within this Wholesome Essentials puppy kibble.
Nutro ULTRA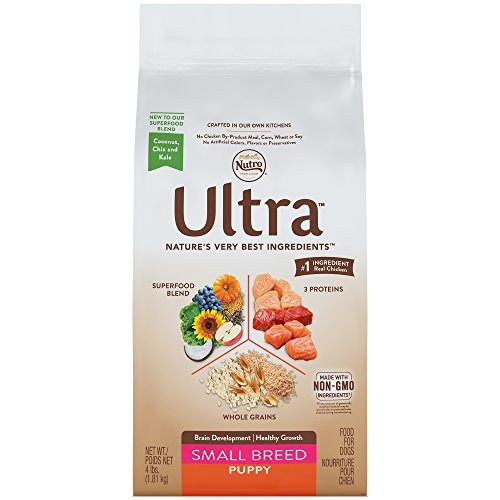 Pros
Chicken is accompanied by both salmon and lamb for some variety and a super 29% protein!
Flaxseed's a rich antioxidant source to help your tiny puppy fight off diseases;
There are so many colorful, flavorful veggies in here, and yes, fruits too, for vitamins;
Amongst these are kale, spinach, pumpkin, apple, blueberries, carrot, and even coconut!
2% calcium, alongside DHA, zinc, and Vitamin E.
Cons
Made with some egg, so not ideal for small puppies who are allergic.
Our Verdict: 5/5
This puppy food's specifically crafted for the shorter development phases of smaller breeds, such as
Poodles
,
Chihuahuas
, Daschunds, Yorkies, and
Poms
. We love that there's even coconut in this recipe, yay!
The Wet Nutro Dog Food Review
Nutro ULTRA Puppy
Pros
Good for a (very) first food, when mixed in with water, as oatmeal and rice are soft on a puppy's digestive tract;
Protein's at 9%, and from salmon, lamb, turkey, chicken, as well as egg;
6% fat is just right for a wet puppy food- providing a balance of energy for play and growth;
Contains spinach, pomegranate, blueberry, pumpkin, and also supplements for vitamins;
There's avocado in here, too, and it's dried avocado flesh- this is probably one of the very few safe ways for puppies to eat avocado, and it's added for phytonutrients, fiber, and antioxidants, along with B vitamins!
Cons
This formula's got wheat gluten, egg, and potato starch.
Our Verdict: 4/5
There are a few potential allergens in this food, but if you've got a puppy who's not intolerant to anything specific, this offers a combined blend of proteins, a healthy total fat and protein content, and is soft on digestion.
The Nutro Max Dog Food Review
Nutro MAX Puppy Food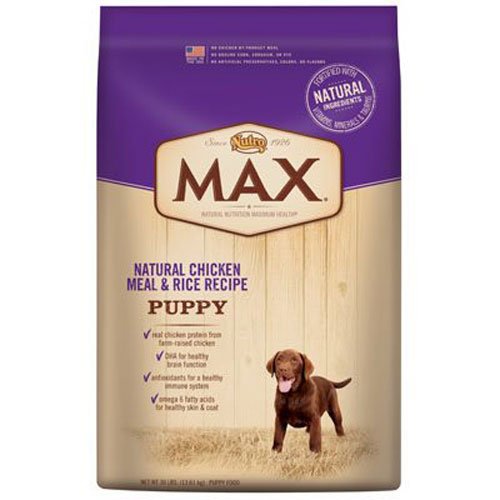 Pros
Completely without any non-natural flavors, colors, or preserving agents;
Zero corn, no wheat, and no soy;
No milled by-products from chicken;
28% protein, which is from peas, oatmeal, chicken meal, and chickpeas!
Fat's derived from chickens- a nice, reliable, and identifiable source.
Cons
While this formula has none of the most common gluten-containing allergens (wheat and so forth), it does contain rice, and for this reason isn't suitable for dogs who need to avoid gluten entirely.
Our Verdict: 4/5
While this isn't a grain-free formula, it gets full stars from us because we love when puppy foods are made without yucky by-products or synthetic preserving, flavoring and coloring chemicals. Rather, all-natural always gets a big 'paws up' from us!
The Hypoallergenic Nutro Dog Food Review
Nutro Limited Ingredient Diet Adult Large Breed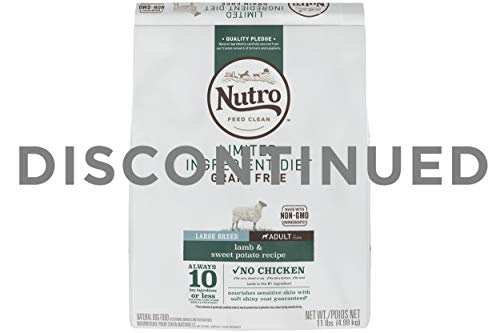 Pros
Each and every Limited Ingredient recipe by Nutro is made without grains;
There is also zero chicken in this lamb dinner because chicken's a fairly common allergen for canines;
22% protein, a great figure for maintenance, and from lentils and chickpeas;
13% fat isn't too high, nor is it too low;
There are a whole heap of healthy nutrients in here, including manganese for tendon and joint strength, which can be important for larger-limbed dogs such as Great Danes;
There's a pretty nifty feeding guide on this package, that makes it super-easy for you to adjust your dog's meals according to his activity level.
Cons
There are, however, potatoes in this recipe.
Our Verdict: 4.5/5
here doesn't appear to be a significant amount of glucosamine in this adult formula, because a lot of the time this is found in chicken meal and fish oil. On the other hand, it means that there's only one kind of meat inside this recipe, which is what's most important for dogs who require hypoallergenic food.
FAQ
What do veterinary professionals think of Nutro dog food?
Nutro dog food is widely approved in the veterinary community. With their focus on quality ingredients and the varied option they offer our furry friends, this is considered a great store bought option. While it may not be considered a top tier food in the industry, it is a great option for pet owners on a budget. This food offers quality protein and a variety of diet options, making it a-okay in our eyes!
Can I mix any dog foods together for my puppy?
Well, not ANY dog foods, actually. If you've got a puppy, then it's typically much, much better practice to feed your little friend with chow or kibble that's received the AAFCO tick of approval as a certified puppy food. For puppies, AAFCO-approved food must have a minimum of 22% protein, fat at 8%, and 1% calcium, amongst other nutrients, as these are what their experts deem necessary for healthy puppy growth.
If you've got more than one dog, and are wondering whether it's fine to mix in adult (or even senior!) dog food into your puppy's dinner, then you should be aware that the resulting recipe may not have enough of the different nutrients that your puppy needs to grow.
Why are there so many puppy foods and dog foods with sweet potato?
Sweet potato is super-full of vitamins, soft on your puppy or dog's digestive tract, and a mineral-rich source of energy, to name three benefits of the veggie! Sweet potato contains no gluten whatsoever and is replete with Vitamin A, which your puppy will use for so many things- nervous system function, a beautiful coat, strong muscles, and healthy eyes. Maybe you've noticed, a lot of the recipes in our Nutro dog food reviews that are made without grains will contain sweet potato instead- that's because they offer a different way for your dog to get some carbs while being safe for dogs who can't tolerate gluten.
What's the role of iron in my puppy's food?
Puppies and dogs need iron to prevent anemia, just like humans. In some puppy foods, like the one in our Nutro grain free dog food review above, this may be added in as a supplement (iron amino acid chelate) and also through more natural sources such as lentils, peas, and garbanzo beans. Iron works by helping your puppy's blood cells to carry oxygen, and it works in harmony with both copper and protein for a happy and active puppy!
Last update on 2023-01-29 / Affiliate links / Images from Amazon Product Advertising API