As our gorgeous pooches get older, their dietary requirements typically change. While they're still the same loyal, loveable family members that they have always been, it's often advisable to consider how you might make their mealtimes a little easier.  Whether your older dog is gaining weight or simply needs a softer dinner, we've looked at a bunch of different products that will help you choose the best dog food for senior dogs.In this article, you'll find our reviews of the best canned food for senior dogs, the best dry kibbles for older dogs, and some of our top picks of the best weight management formulas that will keep your pooch feel fit and full between mealtimes. Read on for more!
Quick Review: Top-5 Dog Foods for Senior Dogs
Holistic Select Natural Grain Free Senior

Contains L-carnitine
Offers glucosamine from chicken flour
Provides your loyal friend with 28% protein

Wellness Complete Health Natural Wet Canned

Contain antioxidants
Supplemented with vitamin B
Contains omega acid rapeseed oil

Petcurean Now Fresh Senior Dog Food

Contains no by-products or preservatives
It is made without corn, wheat and any grains
Uses of prebiotic bacteria

CANIDAE GF PURE Dry Dog Food for Seniors

Contains a lot of meat proteins
Uses nutrient-rich chicken fat for energy
Enriched with essential minerals & vitamins

Merrick Lil' Plates Senior Recipe

Contains 32% protein & 12% fat
It is full of dietary qualities
Just 348 K/cal in each Cup
What's The Best Dog Food For Senior Dogs ?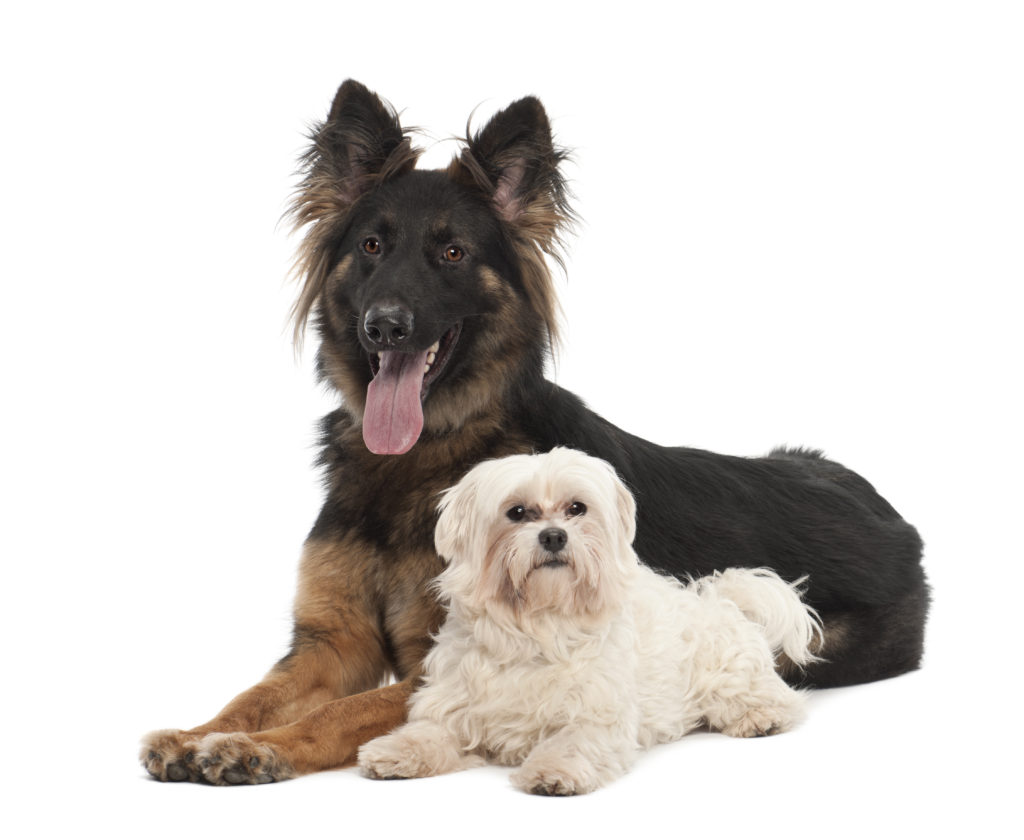 There's no single formula that will make every senior dog happy, but that's why we love our pooches – they're unique! Most dogs, however, tend to become less active and fit during their later years, and it becomes more challenging to fight off disease. Depending on your dog's breed and lifestyle, you may find yourself looking for any number of special features as they age.
Some of our best friends will start to gain weight, some will lose a bit, and others may begin to have stomach sensitivities. No matter their struggle, their diet should reflect their needs. Older dogs may also require that you look out for dog food with certain nutrients, depending on whether they are suffering from stiff joints or fading eyesight. The great news is that there are now plenty of special formulas on the market to target the precise needs of different veteran dogs. A careful approach to your dog's diet can definitely play a big role in helping slow down or reverse the effects of various conditions, and we've reviewed a whole bunch of excellent products just below.
So consider what your pooch's precise requirements are, and you're bound to find something suited for your best pal!
How Can I Find the Best Dog Food for Older Dogs?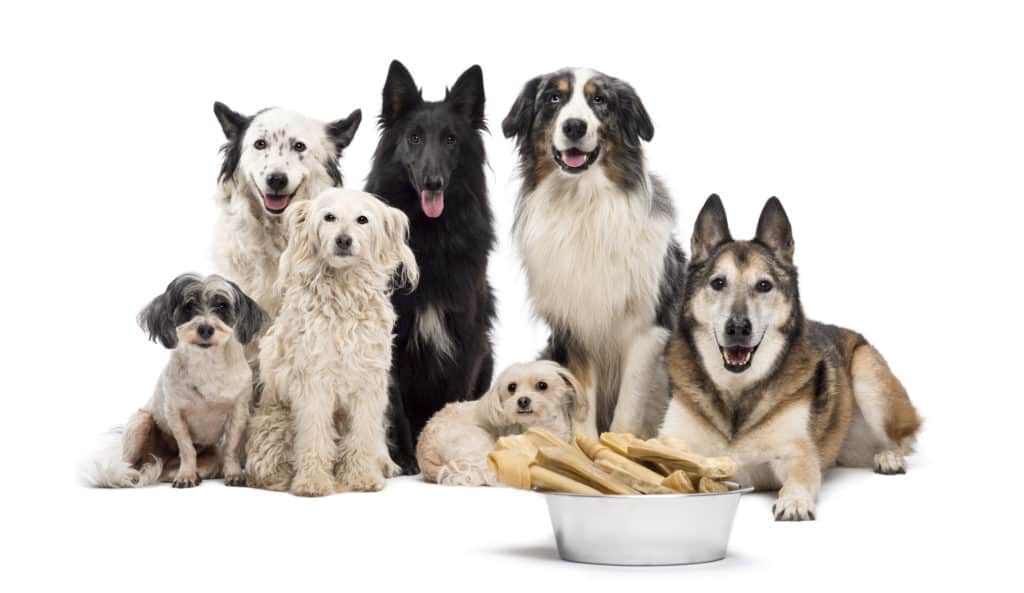 There are a lot of misunderstandings about how dogs should be eating once they reach a certain age. Each dog's requirements will vary depending on their breed, size, and lifestyle — but that doesn't mean there's one right or wrong formula to feed your older dog. These tips are designed to bust some of those myths while highlighting some things you should look for in the best senior dog food.
Senior dogs don't require any less protein just because they're older. It's sometimes thought that food with a lower protein content is necessary because your senior dog might not be exercising as regularly or intensely as before. That's not quite accurate, vets argue, as senior dogs still need to maintain their muscle tone. We'd advise you not to go for a lower protein formula simply because it's marketed for senior dogs: always have a good look at the guaranteed analysis before you settle for any old kibble!
Older dogs sometimes tend to gain weight as they age – it's normal as they ease into a less active lifestyle. Don't exercise your senior dog more without consulting his vet first, as his more sedentary behavior may be the result of sore joints or similar. You might consider a weight management senior dog food if this is the case.
Sometimes, the opposite happens – senior dogs may lose weight as they get on in years. If you and your dog's vet have ruled out any medical reason for this, you may want to choose a more high-calorie food for your pooch.
Aging pooches also tend to have less jaw strength than their younger counterparts. Some might be losing teeth, and require a more tender or easily chewable recipe. You might consider switching your dog over to a wet formula or adding some warm water to his kibble to soften it up right before dinnertime.
Finally, older dogs are more susceptible than younger ones to develop health conditions. In this article, we'll only be recommending non-prescription food and we can't provide the same medical advice that your vet will be able to offer. If you suspect your pet is suffering from a real condition such as kidney difficulties or dysplasia, do consult a professional as soon as you can..
The Best Dry Dog Food For Senior Dogs: Brands We Love
If you're not a long-time dog owner, you'll find that there are certain brands that consistently manufacture great quality dog food from top-notch ingredients. When it comes to the best dog food for senior dogs, we recommend the following brands:
Holistic Select;
Nulo;
Petcurean Now Fresh;
Halo Holistic; and
The Best Dry Dog Food For Senior Dogs: Reviews
Holistic Select Natural Grain Free Dry Dog Food, Senior
Pros
This lentil and chicken recipe is optimally balanced to promote slower digestion in dogs who are gaining weight;
It contains vegetables such as pumpkin, and tasty fruits like cranberries for vitamins;
Contains L-Carnitine, a healthy addition to aid your dog's metabolism;
Offers glucosamine from chicken meal to protect your furry pal's joints; and
Provides your loyal friend with 28% protein.
Cons
Potato-intolerant dogs won't be able to eat this.
Our Verdict: 5/5
This Holistic Select formula is just perfect for older canines who are having digestive problems. It's made with all-natural meats, vegetables, and fruit, and it's gluten-free for senior dogs who can't eat grains.
Nulo Senior Grain Free Dog Food With Glucosamine And Chondroitin
Pros
Sweet potato gives your older pooch some digestive help, thanks to its natural fiber content;
There is zero chicken protein in this recipe, and it also skips the egg – ideal for those dogs who can't tolerate either;
Natural and supplemented Omega acids make it a top choice for your senior dog's skin and his coat, too;
Provides a generous 30% protein; and
It contains an optimal serving of glucosamine to help reduce any joint difficulties that your dog is experiencing.
Cons
This is slightly more expensive than some other senior dog food products.
The Best Canned Dog Food For Senior Dogs: Reviews
Halo Holistic Chicken Recipe Senior Dog Food
Pros
Chicken broth provides moisture and flavor, making this a delicious, easy meal for your older pooch to digest;
It's also full of all the minerals that your dog requires to stay in great shape as he ages;
Slightly lower in fat and energy than a lot of other Halo formulas, it's ideal if your dog is putting on weight as he gets older;
Salmon oil offers glucosamine and DHA, as well as Omega fats for your dog's beautiful coat; and
The mineral supplements are in chelated form, so they are much more readily absorbed by your dog's body.
Cons
It's not hypoallergenic, so not suitable for our fluffy friends who have intolerances.
Our Verdict: 5/5
This Halo formula contains no meals from meat at all and no GMO veggies. In fact, it only uses whole chicken and it also contains all the nutritional goodness of chicken liver, alongside a tasty serve of fiber-rich greens and fruit.
Wellness Complete Health Natural Wet Canned Dog Food Senior
Pros
This relatively low-calorie formula only has been developed to aid healthy weight maintenance in older dogs;
Contains antioxidants that help your pooch fight off disease;
Naturally flavored and free from synthetic chemical preservatives, this contains fewer add-ins that your dog might be averse to;
Supplemented with Vitamin B for energy and zinc for healthy skin; and
Contains Omega acids from canola oil and flaxseed meal for optimal skin health.
Cons
None that we have been able to spot!
Our Verdict: 5/5
Another 5-star recipe for senior dogs, this Wellness Complete formula offers all the dietary nutrients your senior dog requires, and then some! USA-made from all-natural ingredients, this delicious chicken recipe will go down a treat with your fluffy best friend.
Best Dog Food for Overweight Senior Dogs
Petcurean Now Fresh Senior Dog Food
Pros
L-Carnitine assists your senior dog in burning energy more effectively, while helping to keep his weight in check;
Contains zero meat by-products or synthetic preserving agents;
It's made with no corn, wheat — or any gluten-containing grains;
Uses prebiotic bacteria to aid your pooch's digestion even further; and
It provides a lovely mix of proteins (24%), including cottage cheese, turkey, duck, and lentils.
Cons
Not suitable for dogs on a limited diet!
Our Verdict: 5/5
Healthy and natural (with no GMO ingredients!), this senior dog food for overweight dogs provides plenty of additional benefits besides a balanced formula. It even uses coconut oil as a great source of useful antioxidants!
Best Dog Food for Older Dogs with Sensitive Stomachs
CANIDAE Grain Free PURE Dry Dog Food for Seniors
Pros
Uses a limited range of high-caliber ingredients such as fiber-rich garbanzo beans and genuine chicken;
These simple ingredients help reduce the risk of your older dog developing a sensitive tummy;
Contains plenty of meat proteins, such as chicken meal and turkey meal for a total of 28%;
Uses recognizable, nutrient-rich chicken fat for energy; and
It's fortified with all the critical minerals and vitamins that your older pooch requires.
Cons
Includes potato among the top ingredients.
Our Verdict: 5/5
This is definitely some of the best dog food for senior dogs with sensitive stomachs. As it only includes a few select ingredients, you'll be able to know precisely what your pooch is and isn't eating, helping him avoid digestive difficulties as much as possible.
Best Dog Food for Small Senior Dogs
Merrick Lil' Plates Senior Recipe
Pros
Contains a lovely 32% protein and a balanced 12% fat;
This contains real, boneless chicken, as well as glucosamine-rich salmon meal and oil for your dog's joints;
It's full of dietary goodness, such as fiber from apples and alfalfa meal;
Uses a small kibble design to ensure your dog isn't struggling to chew his food; and
At only 348 k/Cal in each cup, it's ideal as a weight management recipe.
Cons
None – We love Merrick Lil Plates every time!
Our Verdict: 5/5
Thoughtfully crafted small kibble pieces ensure your mature dog can easily chew and swallow his food without any fuss. They're designed to clean his teeth, too!
Victor Senior Healthy Weight
Sale
VICTOR Purpose - Senior/Healthy Weight, Dry Dog Food
Victor offers the perfect senior formula for the less active aging pups of the world. With a lower calorie formula and added nutrients for joint support, this diet has everything your dog needs to age with ease! Not only does this diet take care of your dog;s aches and pains, but also helps to promote a healthy immune system. This diet has your dog covered in every category.
Buy on Amazon
Add to Cart
Pros
Low calorie formula to help prevent weight gain
Added glucosamine for joint support
Probiotics to help promote gut health and immune support
Cons
Since this diet is lower in calories, it is not ideal for senior dogs that are underweight.
Our Verdict: 3.5/5
This is a wonderful diet option for all the chunky senior pups of the world. This diet will help to manage their weight and keep them comfortable as they age.
FAQ
How do I know when my dog needs a senior dog food?
If you ask around, you'll find that there are a great variety of opinions on this topic. Some manufacturers suggest that dogs over eight years of age should be eating senior formulas, while some vets believe that senior dog food diets aren't required at all if your pet is in fine shape. On top of this, some breeds will be more susceptible to certain health conditions — and these may appear earlier or later depending on your individual dog.
We suggest that you take your dog for regular check-ups with his vet. A professional will have a keen eye for signs like joint stiffness, weight gain, and other physical signs that indicate a senior formula is more appropriate for your pooch. Do keep your own eyes peeled in the meantime for any suggestion that your dog might be needing a softer or canned recipe, such as tooth loss or difficulties chewing.
Do elderly dogs need to transition gradually to senior food?
It is always a good idea to take things relatively slow when you are moving from one dog food formula to another. Whether that's moving your puppy from puppy food to adult food, or your grown dog from his regular kibble to a senior blend, a gradual approach will reduce the risk of any digestive problems they may incur. Older dogs, in particular, may already be experiencing some digestive difficulties and might not respond very well if you change their diet overnight.
Give your dog a week or so while you make the change from regular kibble to senior dog food. Unless your vet suggests otherwise, aim to keep the total calories consistent while serving a smaller quantity of the 'regular' food each day. Increase the amount of senior dog food you give your pooch to replace his old formula, and by the end of a week, he should be eating 100% senior dog food.
Helpful Links
Last update on 2020-05-27 / Affiliate links / Images from Amazon Product Advertising API