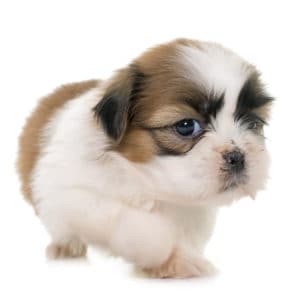 Glossy, long-haired, beautiful Shih Tzus often have a special place in their owners' hearts. Not just because they make such cute, small, lap pooches, but because they're affectionate, sweet, and loads of fun to play with. And gosh, aren't they just such adorable little puppies?!As a breed, it's important to take note of the special needs these sweet little doggies have — from their short noses to their lengthy fur and tendency for sensitive stomachs. Take note of these things, when you pick out a Shih Tzu puppy food (or adult food) and you'll be rewarded with a happy, healthy little best friend for life.
Quick Review: Top-3 Dog Foods For Shih Tzu
Blue Buffalo Freedom GFN Small Breed

Multiple protein sources - chicken and egg
DHA naturally derived from fish oil
Omega acids in here

Wellness Core Natural GF Small Breed

No soy in here, nor wheat, nor corn
Not one artificial agent for flavoring or colors
Wholesome yumminess of peas for extra nutrition

Eukanuba Puppy Small Breed Dog Food

Real chicken's and egg - total 32% protein
Healthy Vitamin E boosting immune system
Antioxidant-rich, to help your puppy
Brand Names Making The Best Puppy Food For Shih Tzu
We've put together a tiny summary of each brand name featured in our review:
Sometimes, you may find that you've run out of a certain type of kibble, or maybe that your little Shih Tzu friend has changed his taste. If this happens, you'll want to change up his dinner. With an understanding of the nutrients that should be in the best food for Shih Tzu, you'll be equipped to make a healthy choice each and every time.
Nutrients Inside The Best Puppy Food For Shih Tzu
When you look at your Shih Tzu puppy's dog food bag, take note of the percentage protein and fats listed. The best puppy food for Shih Tzu will include around 28% to 32% protein, though this may come from different meat or non-meat sources. Importantly, your more active pups are still not going to require much more than 32% protein, regardless of how frequently they exercise. Instead, you'll want to up their total daily calories slightly, by feeding them more as a whole. Fat-wise, a good target is something close to 20%, which should ideally be from identifiable fat sources, such as 'chicken fat' or 'salmon oil'.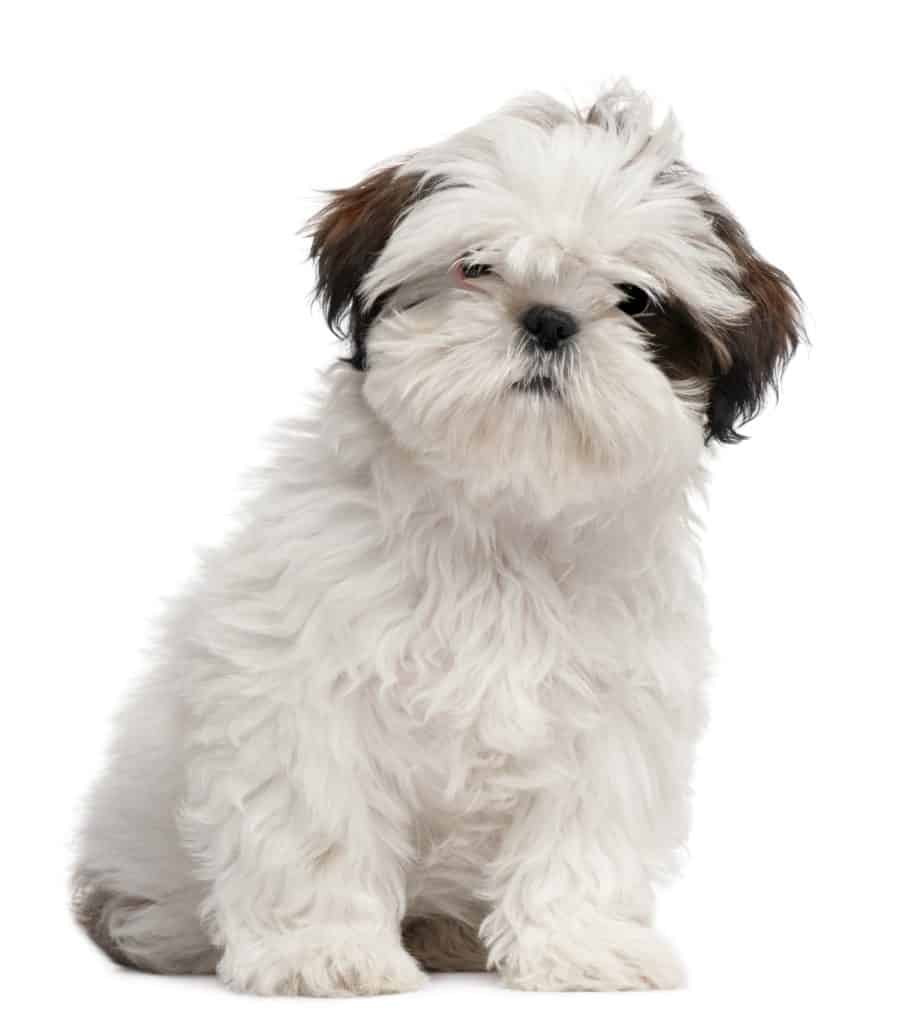 How About The Best Dog Food For Shih Tzu?
At around age of 1, your grown-up Shih Tzu is ready to start a less protein-rich diet. You'll want to select food with protein that ranges between 22% and 25%, which is just enough for maintaining a healthy lifestyle. As with pups, more energetic Shih Tzus will be burning more calories each day, so may require slightly larger servings at each meal. Your average Shih Tzu adult is also going to require at least 13% fat each day. Once again, do your best to steer clear of vague fat ingredients such as 'lard'…or anything that leaves you scratching your head, really!
When Picking Out The Best Food For Shih Tzu…
Try to remember the following things!
Be aware of sensitive tummies. As a breed, Shih Tzu are more likely than other breeds to develop sensitive tummies. As every dog owner knows, this can be uncomfortable and lead to gassiness, bloating, as well as vomiting, in severe cases. While not for all dogs, lots of Shih Tzu owners tend to prefer grain-free meal options, as this often helps alleviate some unpleasant symptoms of a sensitive stomach. You can check out our page on the best food for dogs with sensitive stomachs, but if it is serious, always ask a vet for advice.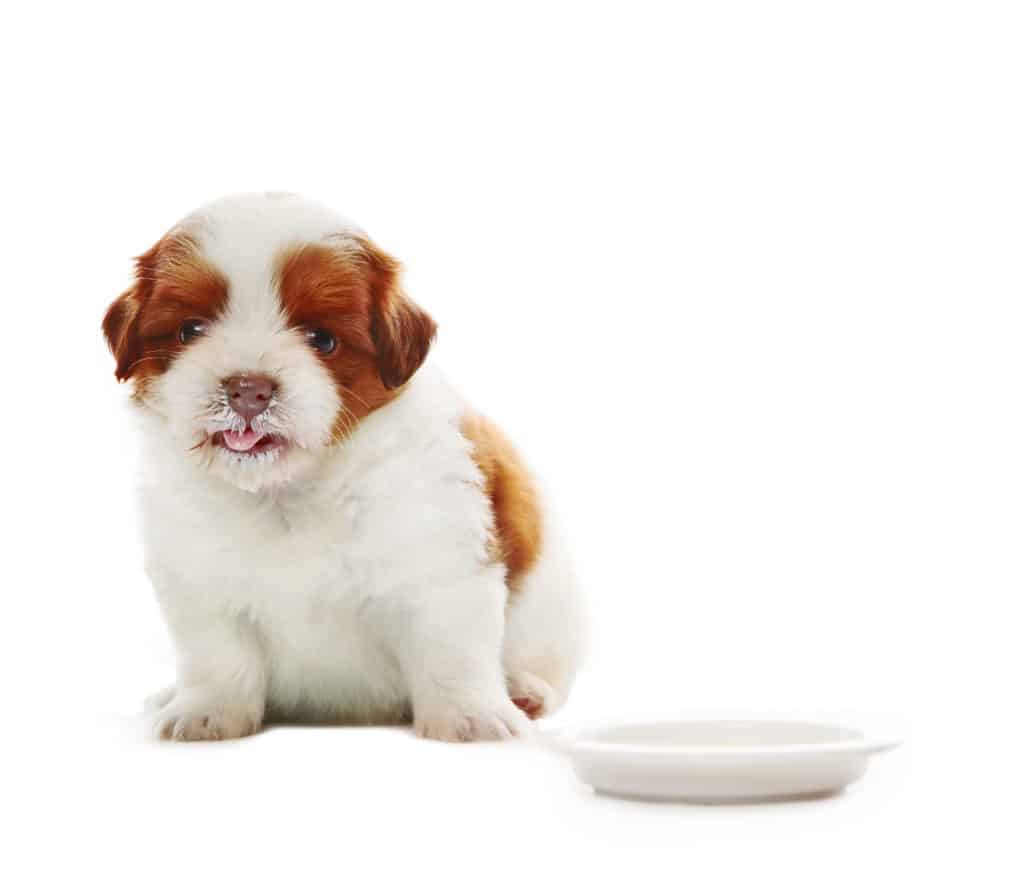 Remember their Vitamins K, B, C, A, and more! Don't forget that just like us, our little Shih Tzu requires all the tasty goodness of minerals such as iron, copper, and zinc, as well as yummy vitamins. We love when our favorite brands include real veggies and fruit, because this means that your Shih Tzu is getting these naturally, as well as healthy fiber.
Choose food that suits their tiny jaws. Besides the obvious issues of not being able to pick up bigger bits of kibble, dry food that comes in overly large chunks can sometimes be a choking hazard. The best puppy food for Shih Tzu will usually be designed with more manageable pieces of kibble.
Remember their high energy requirements. A fast metabolism is something that can distinguish smaller breeds from their larger counterparts. Smaller animals have a larger surface area to volume ratio, so require more calories per day to keep warm and thrive. This is especially important for little Shih Tzu puppies, so try to aim for around 450k/Cal per cup. For adults, this will be a little lower, around 380k/Cal per cup is a good average.
Shih Tzu Dog Food: Should I Pick Wet Or Dry?
Why not a little bit of both? You can get just as many nutrients from wet food as from kibble, and there is absolutely zero harm in trying out canned and dry packaged foods until you find a Shih Tzu dog food that your little one adores. Just remember to keep an eye on the feeding instructions when doing so, because wet food contains more water. That means that while it's great for doggies who don't drink enough, you will generally not be able to just sub in the exact same weight instead.
There's also room for experimenting with the two in one bowl — many great brands create wet 'toppers' that jazz up a dry bowl of kibble like nothing else. These can — like all wet dog food, really — be a little pricier than your standard kibble, but variety is the spice of life! And that goes for your Shih Tzu, too!
Which Is The Best Shih Tzu Puppy Food ?
We have done all the label-reading for you, puppy pals! Here's what we recommend—the best puppy food for Shih Tzu.
Natural Balance Original Ultra Whole Body Health
Pros
A balanced ratio of Omega oils in here will keep your toy dog's long coat as silky as possible, as well as protect his skin;
EPA, taurine, and DHA — key developmental nutrients — have been added in optimal amounts for both adults and pups (from fish oil!);
As well as real chicken and peas for protein, there's also duck meal for a flavorful twist;
There are lots of lovely essential minerals inside this recipe, such as iron for healthy blood, copper for their bones, and more; and
High in protein, the perfect Shih Tzu puppy food for lean muscle development.
Cons
While it's certified as all-life-stages dog food, it's possible that 23% protein may be a little low for a Shih Tzu puppy food. These dogs have rapid digestive systems, so be aware of how active your little one is in general to determine the right amount.
Our Verdict: 4/5
The big bags are a nice touch; as dog owners, we like not having to constantly re-order and keep too close a tab on when we'll next run out. Our team loves this balanced blend and the nommy-sounding ingredients.
Eukanuba Puppy Small Breed Dry Dog Food
Pros
Real chicken's heading this ingredient list, and coupled with protein from egg for a whopping total of 32%;
1% calcium's just perfect for little Shih Tzu pups to develop strong teeth and robust bones;
There's healthy Vitamin E inside this yummy formula, which is ideal for keeping your Shih Tzu pup's skin healthy and boosting his immune system;
Antioxidant-rich, to help your puppy fight off diseases and stay strong!
Contains the DHA that's necessary for little puppy growth.
Cons
We're not as excited about the use of chicken by-products within this recipe, but on the plus side, this is a natural source of glucosamine.
Our Verdict: 4/5
We do prefer to see natural veggies and fruits as the top vitamin sources, but Eukanuba is hard to fault — it's got all the DHA and Omega acids that keep a puppy's joints healthy and his coat radiant. With genuine chicken as the headlining protein ingredient, we're happy — 4 out of 5 stars!
Blue Buffalo Freedom Grain Free Natural Puppy Small Breed
Pros
You'll notice the multiple protein sources in this Shih Tzu puppy dinner, from turkey to chicken and egg;
DHA is key for puppy development, and you'll note that within this blend, it's naturally derived from fish oil;
There are also Omega acids in here, so your Shih Tzu can grow a lovely, flowing coat;
Made with sufficient k/Cal per cup to meet your little dog's higher energy requirements; and
Super small kibble pieces, designed for super small jaws and mouths!
Cons
Not suitable for doggies who can't eat chicken…but otherwise it's awesome!
Our Verdict: 5/5
Our little Shih Tzu friends will love this healthy, DHA and ARA-enhanced Shih Tzu puppy food. And, it contains no grains whatsoever, so it's well-suited for gluten-intolerant Shih Tzu. Woof woof!
The Best Dog Food For Shih Tzu
Merrick Lil Plates Grain Free Small Breed
Pros
The top ingredient in all Merrick dog food is always genuine, high-grade meat. In this bag, you'll find that boneless salmon has the starring role;
It's entirely grain- and poultry-free for our sensitive Shih Tzu, so perfect for those who cannot tolerate either gluten or chicken;
Made with little (whoops, we mean 'lil') kibble bits that have been designed especially for smaller adult dogs;
The recipe even includes healthy probiotics, which are used to encourage easy digestibility; and
Includes all the nommy vitamins of natural vegetables—alfalfa, apples, blueberries, and more!
Cons
Our Verdict: 5/5
From pea-sized kibble pieces to all-natural flavorings, this Merrick blend is some of the best Shih Tzu food we've come across during our research. It's a top choice even if you don't have an intolerant dog, as salmon can be a lovely way to mix up the same old flavors.
Blue Buffalo Life Protection Formula Natural Adult Small Breed
Pros
Whitefish is the key protein ingredient, authentic and boneless for maximum lick-lipping flavor;
Pomegranate, spinach, cranberries, and all kinds of fantastic veggies make this doggy dinner as vitamin rich as your adult Shih Tzu requires. There are even whole carrots in here!
Whole grains such as barley and oatmeal mean that this Blue Buffalo dinner is soft on little Shih Tzu tummies;
No nasty by-products fillers, fake flavors, or preserving agents; and
At 24% protein, it's perfectly balanced for maintenance.
Cons
Nope, we've really only picked out the best dog food for Shih Tzu!
Our Verdict: 5/5
Your little pooch requires smaller kibble pieces, which is just what this Blue Buffalo Life Protection formula delivers. And inside each tasty nibble, you'll find a completely balanced, high-energy, high-protein, vitamin-rich formula for your dog's optimal health.
Wellness Core Natural Grain Free Dry Dog Food Small Breed
Pros
No soy in here, nor wheat, nor corn! A great, and completely grain-free, option for our little doggies;
Not one artificial agent for flavoring or colors, either;
You'll also find all the wholesome yumminess of peas for extra nutrition;
Salmon oil makes this a DHA and Omega acid-rich recipe for sleek, radiant, silky Shih Tzu coats; and
An antioxidant boost from natural, ground flaxseed—for extra health!
Cons
Wellness Core has received nothing but praise from every dog owner that we've met, and this blend for smaller doggies is no exception.
Our Verdict: 5/5
We think this is some of the best dog food for Shih Tzu because it's carefully crafted with their nutrition requirements in mind. That is, there's enough energy for their fast metabolisms and frequent meals, as well as the right fatty acids for lustrous coats. We love it, 5 stars out of 5!
Natural Balance limited Ingredient Wet Food
Pros
Limited ingredients for sensitive stomachs;
High in fiber to promote healthy digestion;
Grain free;
Cons
This is the perfect canned food option for your sensitive Shih Tzu!
Our Verdict: 4/5
This canned diet is tasty, healthy, and has everything your Boxer needs to thrive!
FAQ
When do I switch from Shih Tzu puppy food to grown-up food?
Shih Tzu usually have a life span of between 10 to 16 years, with the transition from puppy to adult being generally around the 12-month mark. At this point in time, you may notice your little Shih Tzu starting to eat less of the puppy food that you give him. Try not to worry too much — at somewhere close to the 1-year-old mark they will stop requiring as much protein, energy, and fat as they did before.
When you're ready to move your little puppy off his Shih Tzu puppy food and on to a maintenance (adult) formula, be prepared to set aside a week or so for the process. During this time, you'll be mixing up adult Shih Tzu food with his puppy food in gradually increasing amounts. The key is to make the switch barely noticeable, to avoid upsetting your little one's tummy!
I am a soon-to-be Shih Tzu puppy owner! What shall I buy to prepare?
Congratulations!And let's be honest, is there anything cuter than a Shih Tzu puppy!? Well, besides little baby poodles…
To prepare, you'll need to know the kind of Shih Tzu puppy food that your tiny friend is currently eating. If you are getting your puppy from a breeder, try to establish what your pup's nomming on there — whether it's a certain brand or type, and whether there are any special dietary elements to be aware of. While we've listed what we think are some of the best puppy food for Shih Tzu, you will still need to make a relatively slow transition over from what he's currently having. This can be important in smaller, toy breeds, and Shih Tzu especially are known for having sensitive tummies.
Other than this, you'll definitely need a brush for your little one, as well as all the usual nail clippers, toys, treats, and go-walkie stuff. You can find a lot of helpful information on fun games to play with your Shih Tzu on our Tips page, too!
Best of luck!
Helpful links
Last update on 2023-01-26 / Affiliate links / Images from Amazon Product Advertising API